Giro dell'Emilia 2014 preview
By David Hunter
My favourite race of the year!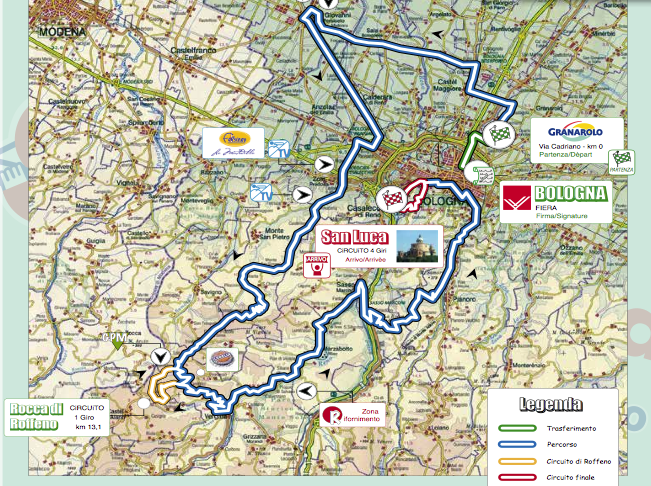 200km long, with 5 ascents of the climb to San Luca. It's 2.1km at 10%, with a maximum of 18%. This is why I love the race.

Diego Ulissi took the win, in 2013, with a faultless performance. His team set the race up well, although Ulissi marshalled the attacks of Zardini and Villella, all by himself.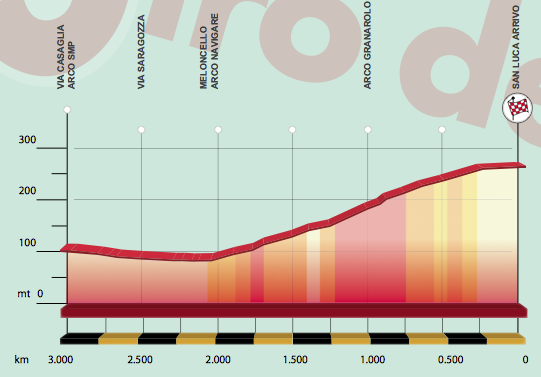 The max gradient is with 1km to go, as they grind up the slopes towards the town. This is where being small and light is an advantage, but you still need power.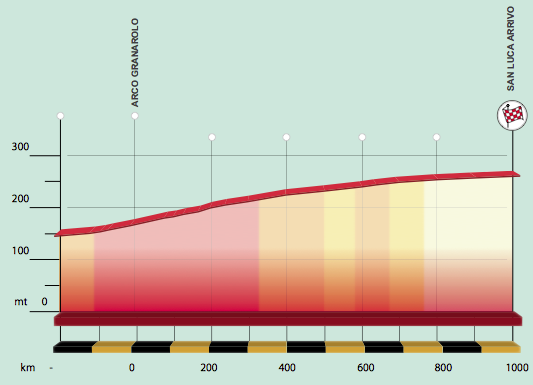 The climb does level out, with 300 metres to go. Although, it's usually all over by this point.
Without Ulissi, Lampre don't look the same force. They have recalled Niemiec to try and add some well needed firepower. Cunego will be riding his final race for Lampre, on Italian soil. This will be an emotional moment for him, but he hasn't raced since the Vuelta, so he'll find it very hard to win. Completing the Lampre attack is Durasek. I'm a big fan of the Croatian and think he has a big future. He was unlucky not to succeed with a breakaway attempt, in Coppa Sabatini.
Neri Sottoli and Bardiani are still fighting for the Italian Cup. Bardiani arrive with Bongiorno and Zardini. Both these young men were unlucky last year and come here after great seasons. Having 2 options is a massive plus for the team.
Mauro Finetto is the man for Neri. His great season continued with 2nd place in Coppa Sabatini. This route is not great for him, but he still battled to 7th, in 2013. It would be major surprise, if he won, but he'll go top 10.
After finishing 3rd last year, Davide Villella will be looking to make the podium again. He arrives in form, after finishing 16th in Lombardia and 6th in Coppa Sabatini. He has a very good chance of winning the race.
43 year old Rebellin and 36 year old Pellizotti both have good chances. Franco was 3rd in Copppa Sabatini, showing some signs of form. He usually goes well in this race and will expect another top 5 finish. Can he deliver a win?
A 3 time winner of Flèche Wallone, Rebellin should deliver on this course. However, he rarely wins these days.
Rubiano arrives as the leader of Team Colombia. He'll do well to finish in the top 10. Even when he was flying, in 2012, he only managed 9th place in this race. Teammate Duarte, seems to be suffering from lack of form.
Louis Meintjes should love this race. He can cope with the steep gradients and the South African has to be one of the contenders for the title. He has had a long season, and his legs might not be in top condition.
Caja Rural have 2 contenders: Arroyo and Parra. Arroyo is a solid climber and should go well, but I think Parra could be a dark horse. The tiny Colombian, is perfect for the steep climb to San Luca. His form is terrible though! He has been a DNF in 5 out of 6 Italian races, in the last month.
Prediction time….
I see Niemiec, Bongiorno, Zardini, Villella, Pellizotti, Rebellin and Meintjes being the last men standing. Having 2 options will be good for Bardiani, but not enough to clinch the race. I think it will come down to Villella and Pellizotti, with Villella taking a big win.
David Hunter
Follow us in facebook https://www.facebook.com/CiclismoInternacionalLatinoamerica?fref=ts … or Twitter @CiclismoInter