Tirreno Adriatico 2021 – Stage 2 Preview
By David Hunter
Camaiore > Chiusdino 201.3km
Just the second stage, but we already hit some classic Tirreno walls.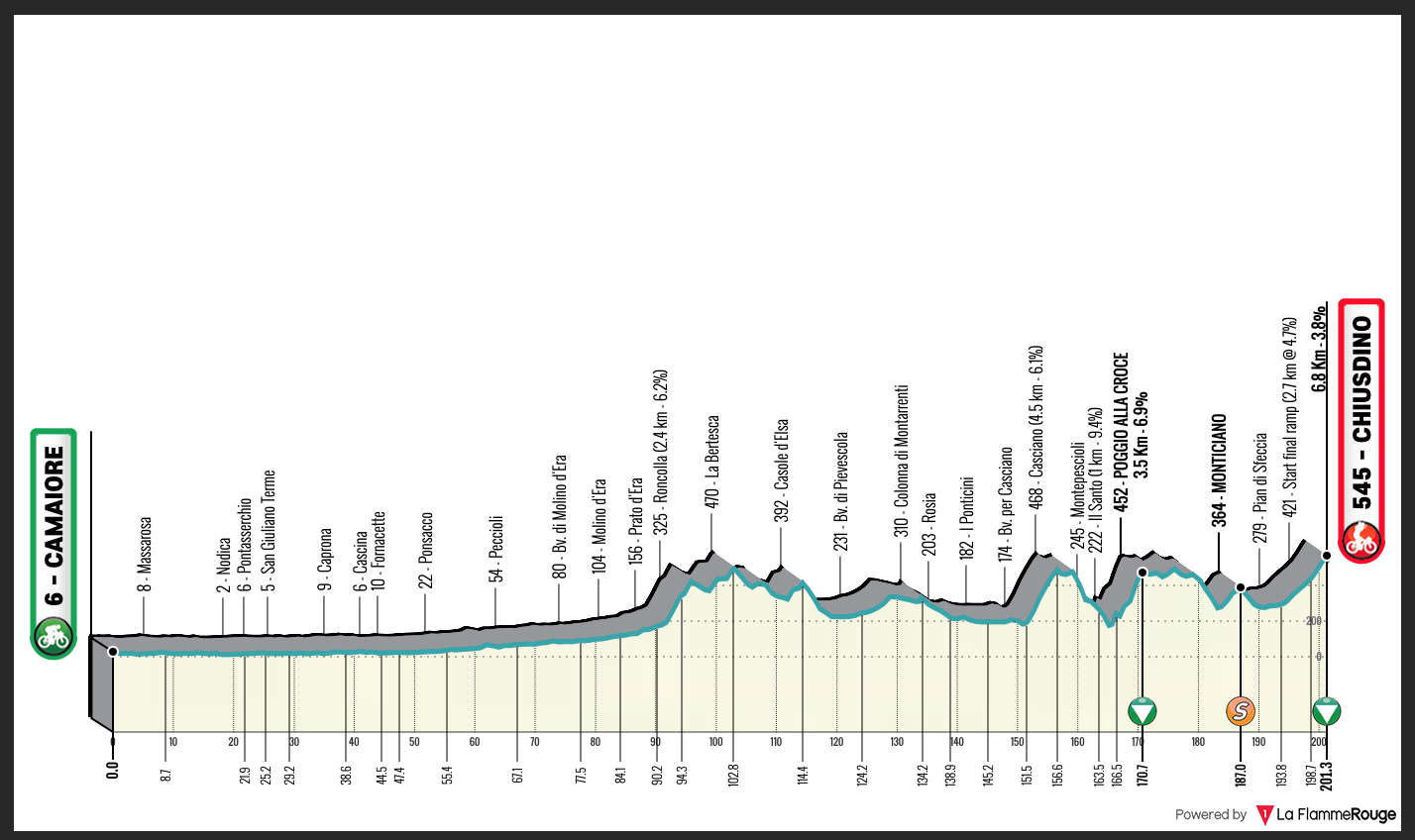 The stage is just over 200km and it contains 2200m of climbing, but the placement of the climbs means we won't see the pure sprinters making the finish.
The Main Points
Despite being 4.6km at 6.1% the organisers have decided that this climb doesn't deserve to be classified, not great for the ego of many sprinters who'll be dropped on this little bump!
The main issue with the climb is that it gets very narrow at the crest, and this continues on the descent.
As this bounces into the main climb, which starts with a wall, it is vital teams have a good position. This means the GC teams will race the unclassified climb to ensure they are at the front for the descent. The racing is going to be hot!
Classic Tirreno! The climb is like a staircase, with three brutally hard steps. The first kilometre is the worst with gradients above 10%. We then have around 1km of rest, before a short little kick of 500m at over 10%. Then it's 500m to catch your breath before the longest section of the climb, we're talking around 1.5km at 9%. The crest of the climb comes with around 30km remaining in the stage. Make no mistake, this climb is far too hard for most fast men.
Finale
7km at 3.7% is an interesting way to finish a stage, the final 2km averages 5%, which will make the sprint very tough. The problem for the fast men who want a sprint is holding the race together in the final 5km, when the bunch will be significantly reduced and attacks should be flying right, left and centre. A strong team is needed to ensure we get a sprint finish.
Weather
Not a bad day with some clouds and sunshine. The wind will be around 12km/h, and it will be a headwind on the final climb to the line, but a lot of this climb is sheltered by trees.
Tactics
An attacking team can do a lot of damage on the unclassified climb and then the big climb of the day. With so many sections over 10% it is possible to turn this into a GC day, with the front group down to the best climbers, and MVDP. If one team has numbers, they'll be able to take advantage in the finale. The more I think about it, the more I think Ineos might try something. Bernal is clearly in brilliant form, they arrive with an amazing team, so why not give it a bash and see what happens? Even if it's just for shits and giggles. I have a feeling this day could be very explosive.
Contenders
Mathieu van der Poel – after his stunning performance in Strade Bianche it comes as no surprise to see that he'll be the favourite for this one. I underestimated the strength of his team on Saturday, having teammates in the front group will be important in the closing kilometres. I think he'll expect Meurisse and Vakoč to be there to police any late moves and set up a sprint, but will van der Poel be patient? As the finale is going to be tricky, I do wonder if he'll go for a long one, especially as he's not here to try and ride GC.
Wout Van Aert – this stage is a very good one for him. After losing on Saturday he'll relish the chance of again going toe to toe against MVDP. Van Aert's sprinting speed was hugely impressive in 2020, he won't be scared of van der Poel despite what happened in Flanders or Strade Bianche. If he is going to challenge for the overall title, it is vital he takes as many bonus seconds as he can, he took 10 today, if he gets another 10 the GC riders will start to worry.
Davide Ballerini – can he survive? Given his current form it wouldn't surprise me to see Ballero reach the end in the front group. The problem will be the final 2km at 5%, when the sprint launches he might find the tank is empty.
Julian Alaphilippe – he would like to attack in the closing stages, but the GC riders won't be keen on gifting him free seconds. That means he'll have to wait for the sprint and see if he can outgun the big two, something that is very unlikely.
Greg Van Avermaet – he'll be sniffing about looking for an opportunity. His form is good, although Strade Bianche wasn't great, but this is a good finish for him. He won't be able to outsprint MVDP and WVA, which means he needs to attack or settle for going for third. I don't think he's the type of rider to settle for 3rd.
Alex Aranburu – has a very fast uphill sprint, but unlikely to be faster than MVDP and WVA.
Late Attackers – the likes of Geraint Thomas, Valentin Madouas, Aimé De Gendt, Quinn Simmons, Tim Wellens, Iván Cortina and Giulio Ciccone will all be keen on attacking when most domestiques have been burned.
Prediction Time
I can't see this ending in a sprint between MVDP and WVA, I think it will break up in the closing kilometres as the peloton is likely to be relatively small. This finish is perfect for a certain Tim Wellens.
David Hunter
Follow us on Twitter and Instagram
Join us on facebook: Ciclismo Internacional
Copyright © 2012-2021 Ciclismo Internacional. All Rights Reserved