Paris Nice 2021 – Stage 5 preview
By David Hunter
Vienne > Bollène 200km
This should be the last chance for the sprinters.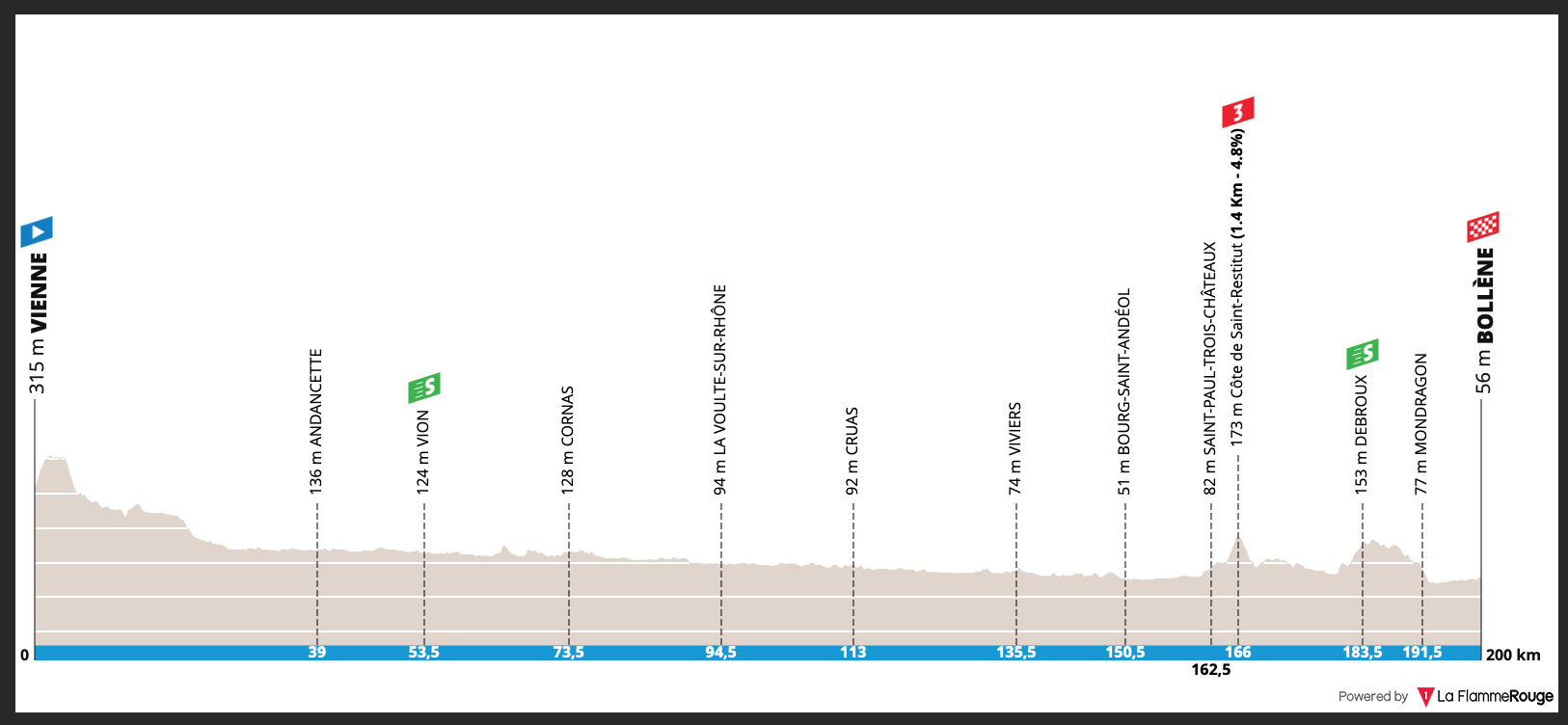 Another day the organisers have planned with crosswinds in mind, but the wind Gods aren't really playing ball this week.
Weather
Temperatures are due to reach 17 degrees, that's like a Scottish summer! The wind at the start of the stage will get some quite excited, it's due to be around 20km/h, but it's going to be headwind for the majority of the stage, and the wind is to weaken throughout the day, but there are a couple of opportunities to split things late in the day.
Finale
With 50km to go the bunch make a left turn and head east, which means a perfect crosswind coming from the right. The exposed road only lasts for 3km, so there isn't much of a chance to really split things, and by this point the wind might only be 11km/h, but teams have looked eager this week, so someone will surely try, especially if we get a strong gust or two.
The next chance comes with 25km to go as the bunch head west and we again get a perfect crosswind. The exposed section lasts a little longer than the last time, but the strength of the wind will dictate what happens.
With 20km to go the bunch head off the main road onto the climb. As usual, there will be a fight to control the peloton at this point.
The reason for the fight is width of the road, it is very important to gain a good position at this point as we have an intermediate sprint fast approaching but also the road stays narrow for almost 15km. Moving up the bunch is going to be almost impossible in this section of the race, sprint teams need a good position now.
With 6.6km to go we have a right turn and move onto a much wider road. At this point teams who have a poor position will franticly try to find each other and move up the bunch, but they don't have long.
With 5km remaining the bunch turn right, using this small slip road.
Almost immediately after we have a tight left.
With 4.5km remaining the bunch approach this roundabout, both sides are open, but you need to be on the right.
That's the worst of it over. The problem for those trains who have a poor position is the road furniture that sporadically appears in the centre of the road. Moving up in the closing kilometres is going to be very difficult and I think we could see some crashes.
With 1.2km remaining we have our last obstacle, another roundabout. Both sides are open, going on the right looks like the best option to me. The rest of the stage is false flat with a tailwind. This is a technical finish.
DS Cycling Mole
After a poor start to the season I've been drafted in by Bora – hansgrohe.
Boys, everyone can leave the room, not you Pascal.
Come here son, what's the matter? I know you're missing your old buddy Selig, but there's nothing I can do about that. There's no point crying about it, he's not here and you need a new best mate. See that young Belgian kid, Jordi Meeus, he's dynamite. He'll guide you into position and then you let fly with 200 to go. Stop launching too early, you're starting to look like a dick, and we don't want that. Remember, you're one of the fastest in the world, you just need a win. Don't get desperate, believe in yourself the way I do. Stay calm, follow Meeus, and the rest will take care of itself.
Contenders
Sam Bennett – took the opening stage, but I might need to whisper this next bit, the mighty Quick Step train hasn't been functioning well this week. In stage 1 it was Cattaneo who rescued Mørkøv and Bennett from a relatively poor position, leaving Mørkøv to position Bennett on a good wheel, the win glossed over a poor performance by the train. In stage 2 Bennett got a good position at the head of the bunch for the closing stages, but his train couldn't be seen. Tim Declercq was left to do a lot of work, and by the time Mørkøv arrived on the scene he was cooked and couldn't move Bennett up the bunch. The train looks very strong on paper, but Lampaert and Sénéchal have struggled to get involved this week. Now, DQT don't get it wrong very often, which means the law of averages suggest they'll do better in this stage. It is crucial they secure an early position and hold it, the same goes for all sprint trains.
Cees Bol – Team DSM nailed it on Monday, it was great to see Bol taking his first world tour win in Europe. They changed things around that day, with Bol riding much higher in the line in the closing stages. This is an approach teams sometimes choose to take in technical finishes, sprinters who sit 4 or 5 wheels down can get swamped and lose position. I would like to see the team employ that tactic again in this stage, get Bol to sit near the head of the peloton with Tiesj as protection, the rest of the guys can sit behind and move up in the closing stages. His stage win reminded everyone of just how fast Bol is, the team haven't decided to make him fully focus on sprints for nothing, he can generate a huge number of watts.
Mads Pedersen – despite not yet taking a win, Trek-Segafredo have been the most impressive sprint train in the race. In both bunch kicks they have dominated the closing stages, it really is a joy to watch Kirsch, Theuns, Stuyven and Pedersen work together in the closing stages. The Dane has finished 3rd and 2nd in the two sprints, I know what you're all thinking, that means he has to finish 1st in this stage!
Arnaud Démare – his team were impressive in the opening stage, but didn't have a great position in stage 2, although the crash did have a massive impact on him. FDJ are a very experienced sprint train and are usually very good, but in stage 2 they had to do without Miles Scotson, a crucial link in their chain. The Aussie will be back in his usual position, number 4, for this sprint, so I expect FDJ to be up there in the closing kilometres. Can Démare take his first win of the season? He would love to as his next chance will be Milan-Sanremo.
Pascal Ackermann – despite not having Selig, Bora have done a good job this week, but they don't have anything to show from it. In all honesty, it's not been a great start to see the season for Ackermann, when he has been in a good position he simply hasn't had the legs to finish the job off. This is a huge season for the German sprinter, he's going to the Tour de France for the first time, but he needs to get a win on the board as soon as possible. He has the speed to win, he just needs to keep believing in himself and his teammates.
Prediction Time
I'll go with the rider who has consistently had the best sprint train this week, a win for Mads Pedersen.
David Hunter
Follow us on Twitter and Instagram
Join us on facebook: Ciclismo Internacional
Copyright © 2012-2021 Ciclismo Internacional. All Rights Reserved