Tirreno Adriatico 2021 – Stage 3 Preview
By David Hunter
Monticiano > Gualdo Tadino 218.8km
A long day in the saddle.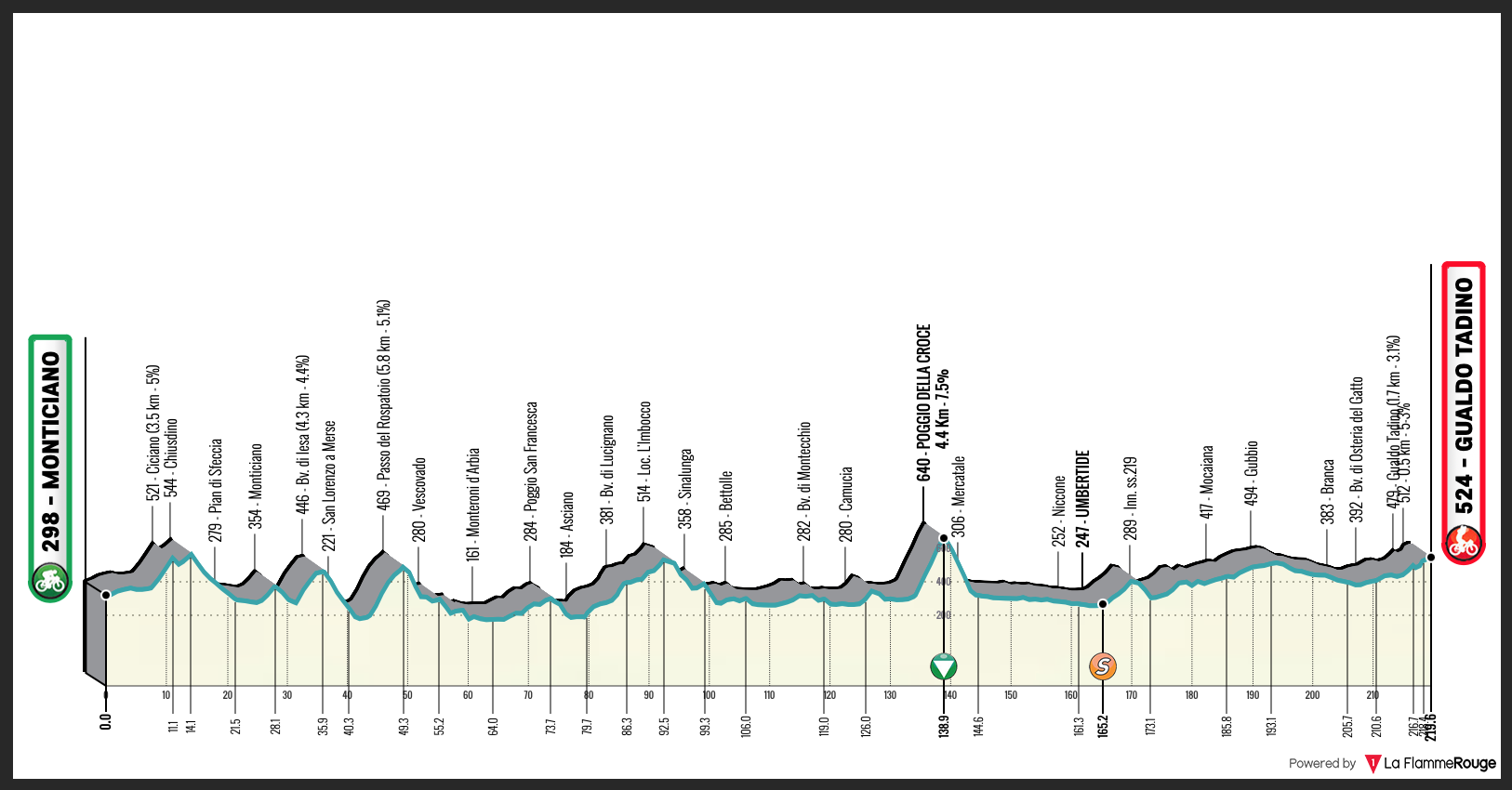 Almost 220km, which is perfect for all the riders who are here with one eye on Milano-Sanremo. This stage actually has the most climbing of any stage this week, which is quite surprising considering it only comes in at 2844m of altitude. Considering the length of the stage, that isn't a huge amount of climbing.
Weather
Lots of clouds and they could lead to some rain throughout the stage, but that isn't certain. The wind is strong, around 20km/h, will we see some gutter action?
Echelons
Despite a strong wind, it's unlikely we'll see splits as most of the day is sheltered by trees or hills. This 10km stretch of road looks the best option, it comes at km 110, but not all of this section is exposed. The wind is good, the direction is good, but the route doesn't seem exposed enough to me.
The Climbs
The only categorised climb is 4.7km at 7%, and it looks quite tough, but the crest is a long way from the finish. Will any teams look to push on considering there's still 80km left in the day? The pure sprinters will hope not.
Finale
The final 5km rises at 2%, which isn't that hard, but it does have a maximum gradient of 8.5%. One of the main issues for the fast men is from 2km until 1.3km to go, where the road rises constantly above 5%, and we have a very tight turn at the flamme rouge. Riders who lose positions will find it very difficult to get back into a good position, which is absolutely crucial as the final 200m again kicks up to 5%. This is a great finish, some pure sprinters could well make it, which will make the sprint very interesting.
Tactics
It all depends on the climb and who wants to push the pace on. With so many tough stages to come, I think we might see no one come to the front, and the sprinters will breathe a huge sigh of relief. If that does happen, we should have a big bunch approaching the final kilometres.
Then the pace will be high, and we'll have to see which of the sprinters have enough gas left for the uphill sprint. Sprinting after 220km does strange things to some fast men, this uphill finish will seem much harder than it actually is.
The other scenario is a team makes the climb hard, they might not drop the sprinters but it will take something out of their legs. Maybe teams will look at the final 10km and think they can make that part of the race too hard for the pure sprinters.
Contenders
Wout Van Aert – another stage that suits him very well. He's clearly riding very well and as he's quick enough to win a full bunch sprint he must start this stage as the favourite. It will be up to Jumbo-Visma to control the stage and set up another opportunity for their main man.
Caleb Ewan – in terms of Milano-Sanremo this is an important stage for the Aussie. He would have been bitterly disappointed on Wednesday, but this is a chance to right that wrong. The climb is hard, but Ewan can cope well with steep slopes when he has to, especially if they're 80km from the finish! The finish is tricky, there are some steep slopes in the closing 10km, but Ewan is brilliant in an uphill sprint. I wouldn't have him as the favourite for this stage, but it wouldn't be a surprise to see him win.
Davide Ballerini – this is a very good stage for Ballero. He was back on lead out duties for Hodeg in stage 1, but the Colombian is unlikely to challenge in this type of finish, which means it's over to Ballerini. He's started this season in amazing form and he strikes me as the type of rider who'll relish going up against WVA and MVDP, not someone who'll be scared of them.
Mathieu van der Poel – I'm finding it very hard to work out if he's faster than Van Aert. I don't think Merlier can win this stage, it should really be one for the Dutch champion. He was very close today, if he started his sprint closer to Alaphilippe he would have won. If he launches from Van Aert's wheel will he be able to pass him?
Luca Mezgec – another fast man who can handle short climbs. His stage win in the Tour of Poland back in 2019 was on a tough circuit that had an uphill sprint. In fact, that finish was actually harder than this one. Mezgec will be one of the sprinters who'll make the finish, but will he have the speed to win?
Prediction Time
Does anyone know who is faster between Van Aert and van der Poel? I'll be honest, I have no idea. That means I'll go with the rider who's likely to have the best lead out, come on Davide Ballerini!
David Hunter
Follow us on Twitter and Instagram
Join us on facebook: Ciclismo Internacional
Copyright © 2012-2021 Ciclismo Internacional. All Rights Reserved