Tour de France 2021 – Stage 2 preview
By David Hunter
Perros-Guirec > Mûr-de-Bretagne 183km
Back to the Mûr-de-Bretagne.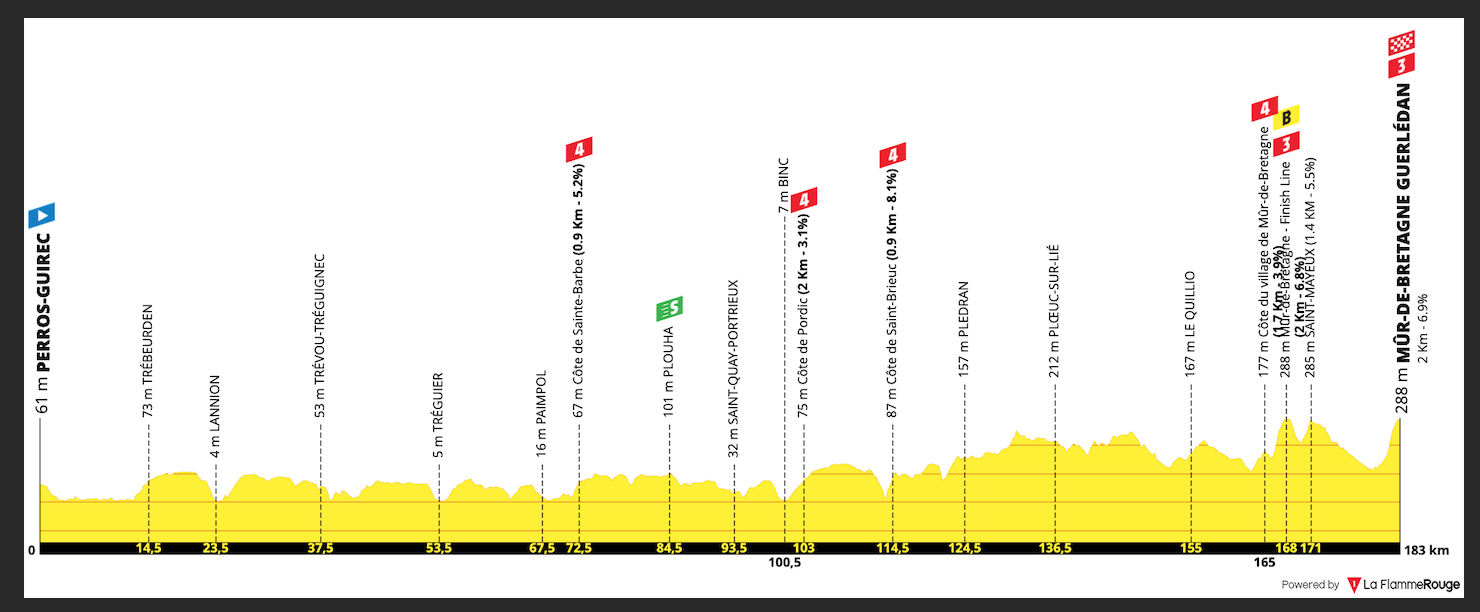 A finish that's featured regularly over the last ten years, it's a stage that most riders in the bunch have experienced before. Just like today, the breakaway doesn't stand a chance, this is going to be another finish for the GC men and a select few fast men.
Weather
Another grey day for the bunch, but it does look like rain near the end of the stage. The wind is coming from the west and is relatively strong. The direction means a lot of crosswind throughout the day, but the route is well protected from the elements.
Key Points
The Mûr is climbed twice, first time up crests with 15km to go. This will see someone try a late attack, but they'll be caught just before the final time up. The climb starts with a bang, the opening kilometre is very steep, before it starts to level out near the finishing line. The difficult start is perfect for those who want to go long and not wait for a sprint, this is how Dan Martin won here in 2018.
Tactics
The climb is harder than the numbers suggest, all you need to do is look at the size of the front group the last two times the race visited. In 2015 it was Vuillermoz who won solo, with Dan Martin in second. The group fighting it out for third had 25 riders in it, including Sagan. In 2018 it was Dan Martin winning solo, Latour in second and a group of 14 fighting for third, again including Sagan.
Sagan has made the front group the last two times we've been here, but he's not had the energy to even sprint for third place. This is a hill that saps your strength, but will it have the same impact on the legs of van der Poel and Van Aert? If they do survive, who will pull back the late attacks? Roglič won't pull and van der Poel won't have any teammates left, which again points to the late attack taking the day.
Wanting to attack at the foot of the climb is one thing, having the legs is a totally different proposition altogether. The steep section is almost 1km at 10%, it really is a brutal ramp. Today's stage saw a big fight for position, but this stage shouldn't be as hard for the small climbers to get a good spot in the bunch. As we do the climb twice, the bunch won't be full as we approach the final ascent, this makes it much easier for riders to move up the bunch and get a good spot for the start of the climb.
DS Cycling Mole
After today's success, I've been asked back by the Deceuninck – Quick Step boys.
Right lads, that was bloody brilliant today. Tomorrow is another day, another chance of winning a stage. I want a carbon copy of today. El Tractor, you do your thing for the first 150km! Then it's all about getting ready for the finish and putting Julian into the best possible position. I don't want us to change how we ride, do not ride for a sprint. Devo, you were brilliant today, same again please. Once we hit the final climb, get on the front and drill it. Julian, once Devo is done, I want you to attack, just like today. We'll see if anyone can follow you, I doubt it. Now get to the bar and bring me some champagne.
Contenders
Julian Alaphilippe – he was brilliant today, no doubt he'll start this stage as the favourite. Riding in yellow could change how he approaches the finale, he might look to take his chances and hope it ends in a sprint, rather than attack from distance. He has the team to control the race, and the lower slopes of the climb, both Devenyns and Asgreen are looking strong. Winning in the world champion jersey was special, a win in yellow would be even better.
Michael Woods – lost big time today due to the crash. He's exactly the type of rider who can attack early and hold off the pack, if he's okay after going down today.
Ineos – Thomas and Carapaz will be their options in this stage, but neither are big favourites to win the stage. Carapaz has the climbing power to go long, but we'll have to wait and see how they approach the final 2km. Both riders started today's climb in a poor position, something that doesn't usually happen.
David Gaudu – looked good today and would dearly love to win on home soil. He's a fantastic climber and packs a good sprint, but not as fast as some of his GC rivals.
Tadej Pogačar – he closed down Roglič today, he seems to have good legs. I wonder what he thought when Roglič refused to work with him, I sense we'll see more of this in the coming weeks. If the stage ends in a small sprint, he'll be one of the fastest left. Will there be any domestiques left to shut down the moves? Will Pogačar look to attack instead? I look forward to seeing how he approaches the finish.
Primož Roglič – third place today was a very good start for Roglič. With all eyes on Alaphilippe, I wonder if he'll launch one of his trademark attacks in the final kilometre. He has the kick required to put most under pressure, it would be great to see him riding in an attacking way.
Alexey Lutsenko – he looks in a menacing mood. His performance at the Dauphiné was nothing short of incredible, he's climbing better than ever before. He's one of many riders who will hope to have the legs to attack out of the main group.
Pierre Latour – got agonisingly close to Alaphilippe today, he's clearly in good form. As I've already mentioned, he was second here back in 2018, it's a climb the clearly suits him. He'll be going long, not waiting for a sprint.
Mathieu van der Poel – I think he'll finish in the front group, but he won't have any energy left to sprint.
Wout Van Aert – he'll likely be on Roglič duty.
Prediction Time
It's all in the hands of Alaphilippe. Will he try to attack from distance? If someone like Roglič is on his wheel, I think they'll be able to go with him. Will he ride conservatively and hope that Devenyns and Asgreen can chase down the attacks and set up a sprint? I'm not sure how the finish will play out, but I'll take another win for Julian Alaphilippe.
A message from Cycle Pal: During the Tour de France, we'll add some extra pressure onto David as we'll be giving away a care package that includes tools worth up to £85 every time he predicts a stage winner correctly. To enter, all you have to do is click the link below and enter your email. Enter here: http://cyclepal.co.uk/tdf
Cycle Pal is a small UK-based cycling company that specializes in unique tools to help you with everyday cycling problems. If you struggle with changing stubborn tyres, you may be interested in our Tyre Seating Tool, you can find more information here: http://cyclepal.co.uk/cyclepal
David Hunter
Follow us on Twitter and Instagram
Join us on facebook: Ciclismo Internacional
Copyright © 2012-2021 Ciclismo Internacional. All Rights Reserved