Tour de France 2021 – Stage 3 preview
By David Hunter
Lorient > Pontivy 182km
The first of the sprint stages.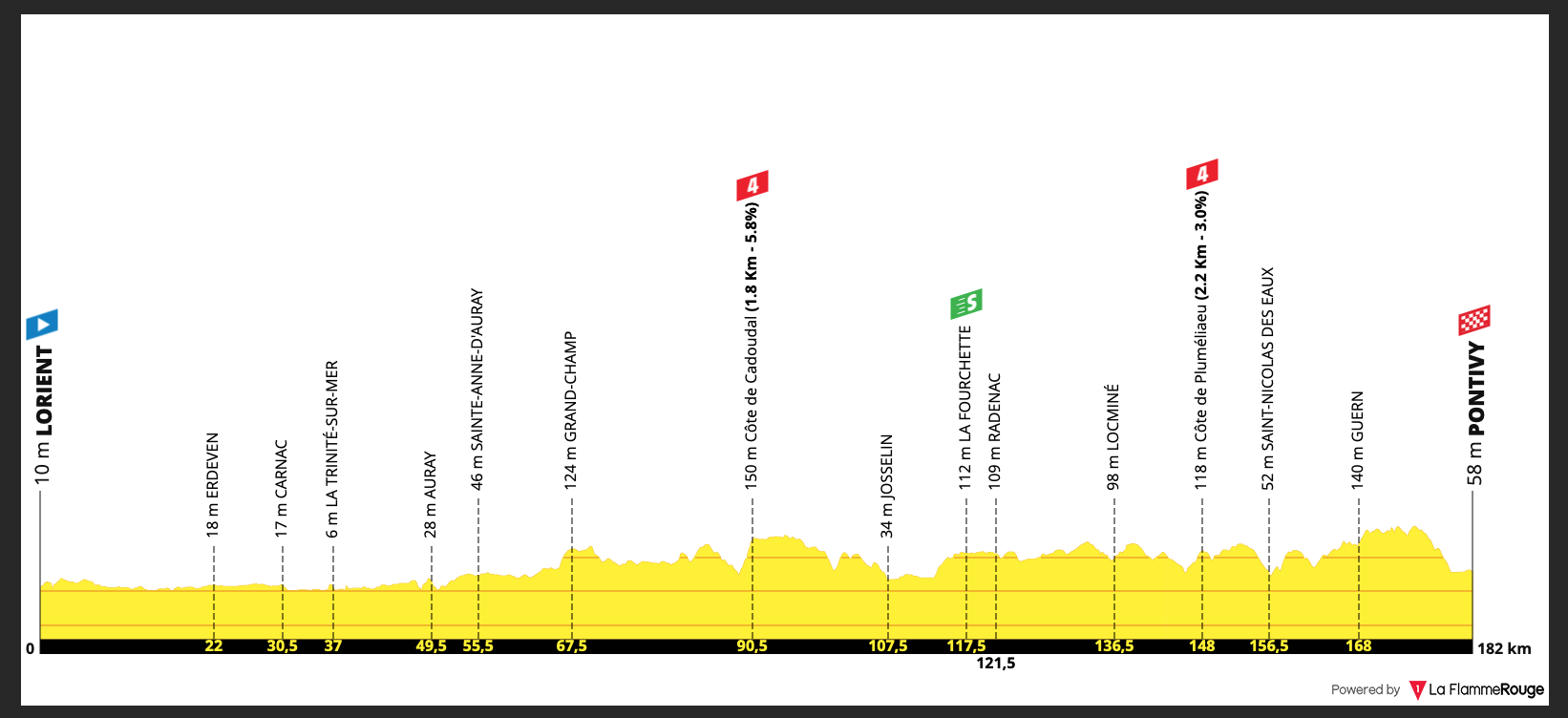 After two days for the puncheurs, it's time for the sprinters to shine. We do have some lumps along the way, but this is a stage that should end in a big sprint.
Weather
The current forecast suggests rain, which isn't great news. Most of the day is spent on narrow roads, if it rains, we'll likely see more crashes. Also making the bunch nervous will be quite a lot of crosswind throughout the day, GC teams will need to be switched on for the whole day. Most of the day is spent well sheltered from the elements, but there are a couple of exposed sections, however I don't think we'll get echelons.
Finale
There are a series of short kickers that finish with 7.5km to go. Then we have a fast descent, on a narrow road, which is likely to be wet. The road has lots of twists and turns, this isn't going to be pretty.
The descent doesn't end until just inside 3km to go, when the bunch take the left turn at this roundabout. Moving up on the descent will be almost impossible, the big battle will be to get to the front with 8km to go. That ensures you have a good spot for the descent and the final 3km.
Fast right with 2.3km to go.
Immediately followed by another right.
1.6km to go, the road narrows to a single lane.
Narrow left turn with 1.4km to go. Then it's straight until the line.
The roadbook claims there is a roundabout with 800 to go, it's not really. Both sides are open, but it's not a roundabout in my book.
Sprint Trains
Lotto Soudal – the Belgians have gone all retro and brought a full sprint train to the race, it's very 2008! They'll have De Gendt and Van Moer to help chase the break, leaving Gilbert, Sweeny, Van Der Sande, Kluge and De Buyst to guide Ewan into position. In the Belgium Tour they experimented with Kluge at number 4, moving Van Der Sande into 3, I think it was a success. Having height is a valuable quality at number 4, I hope they go with Kluge in that role. They have the best sprint train at the race by quite a big margin.
Rating – *****
Deceuninck – Quick Step – the main focus is the yellow jersey, so they have fewer men to support Cavendish. On the plus side they still have Ballerini and Mørkøv, two of the best lead out men in the world. I would expect them to line up Cattaneo, Ballerini, Mørkøv and then Cavendish.
Rating – ****
Team DSM – they lost Sütterlin in the opening stage, a man who normally does good work in the final 3km. Without GC hopes, DSM can throw everything behind Bol, he was very close to winning a stage last year. I think they'll line up Benoot, Kragh, Nieuwenhuis, Eekhoff, Pedersen and Bol.
Rating – ****
Groupama – FDJ – they made a surprising decision to leave Ramon Sinkeldam out of their squad, he normally rides at number 3 and is bloody good. Instead, they brought Armirail a TT rider who climbs quite well to help support Gaudu in the mountains. That left them one short, so losing Konovalovas in the opening stage leaves them two down compared to normal. This means Stefan Küng will have to be drafted into number 4, a role he doesn't normally fill. They'll line up Küng, Scotson, Guarnieri and Démare.
Rating – ***
Alpecin-Fenix – Merlier crashed hard in the opening stage, we'll have to see if he's recovered to sprint in this stage. Their other option is Philipsen, but he is also carrying an injury. I think they'll line up van der Poel, Sbaragli, Rickaert and then whoever is fit enough to sprint.
Rating – ***
Trek-Segafredo – not having Kirsch is a big loss for the team, but they decided to go with an extra climber instead. Theuns, Stuyven and Pedersen are brilliant, they form a very strong partnership and nearly took the win in opening stage last year. Going with such a short train means you need some luck in the closing stages, which you don't always get.
Rating – ***
DS Cycling Mole
For this stage I've been drafted in by Lotto Soudal.
Right boys, this is our stage. We have the fastest sprinter, we have the best sprint train, we need to get it right. King De Gendt, you get on the front in the neutral zone and let everyone know what the plan is. We let a shit break get up the road and you get to work, show everyone it's not just Tim Declercq who can do that job.
The rest of the stage should be easy, but the rain will make it nervous. I want all of us at the front with 10km to go, we need to control the final descent. Once into the last 3km, the sprint train kicks into action. The Sweeney, I want a big turn from you, it's vital you string things out. Then we'll go with Big Rog, you can keep the pace nice and high until just inside the flamme rouge, then it's the turn of wee Tosh. Some might be surprised you're in that position, but we both know you're fast enough. Jasper De Brilliant takes over with 500 to go, do your thing Jasper, before we launch the Pocket Rocket. Caleb, you're the fastest here, believe in the train, trust the boys, we'll get the win.
Contenders
Caleb Ewan – starts as the big favourite, thanks to current form and his sprint train. His mission this year is to win stages in all three of the grand tours, but I suspect he's also got one eye on the green jersey. The finish is technical, having a long sprint train gives him a big advantage compared to his rivals. I expect them to get him into the best position, then it's over to his legs. One issue is his record in the opening sprint stage of races, it is awful.
Arnaud Démare – another sprinter who's in great form, but his sprint train isn't as strong as usual. I think he'll be rueing the fact that Sinkeldam isn't here, he's going to be a big loss. If Démare is going to win, he'll need to come from behind some of the fastest men in the world.
Mark Cavendish – the popular choice. It's quite incredible to see him back near his best, amazing how he's progressed since the start of the year. He doesn't have a long train, which could be an issue given the technical finish, but Mørkøv is worth three men. He has the form; he has the speed, and he certainly has the motivation.
Cees Bol – a recent illness knocked back his preparation for this race, but with the Belgium Tour in his legs he should be competitive. Immediately stepping up and challenging for the win will be difficult, I think he'll need a few stages before he reaches that level.
Alpecin-Fenix – with Merlier crashing hard on Saturday and Philipsen carrying an injury it doesn't look very promising for the team. Philipsen looked okay going for intermediate sprint points today, I think he'll be their man for this stage. Winning will be tough, but he should be challenging for the podium.
Trek-Segafredo – the morning game of rock, paper, scissors will likely decide who gets to sprint in this stage! Seriously, Pedersen would normally be their man, but he crashed on Saturday. If not him, I think they'll turn to Stuyven. Trek-Segafredo normally have a very strong sprint train, but they've decided to leave Kirsch at home and bring another climber. This leaves them short, but they can still get things right and surprise the longer trains.
Peter Sagan – same as usual, he'll be challenging for the top 5, but he doesn't have the speed required to win.
Nacer Bouhanni – his last world tour win was back in 2018, I don't see that changing anytime soon.
Astana – did someone say a wet final descent? Step forward Omar Fraile and Alex Aranburu, they'll take crazy risks and see if they can get a gap.
Prediction Time
If it's wet, the final descent is going to be very nervous, but I think Lotto Soudal will be good enough to control it. The technical finish is perfect for a long sprint train, we'll see a win for Caleb Ewan.
A message from Cycle Pal: During the Tour de France, we'll add some extra pressure onto David as we'll be giving away a care package that includes tools worth up to £85 every time he predicts a stage winner correctly. To enter, all you have to do is click the link below and enter your email. Enter here: http://cyclepal.co.uk/tdf
Cycle Pal is a small UK-based cycling company that specializes in unique tools to help you with everyday cycling problems. If you struggle with changing stubborn tyres, you may be interested in our Tyre Seating Tool, you can find more information here: http://cyclepal.co.uk/cyclepal
David Hunter
Follow us on Twitter and Instagram
Join us on facebook: Ciclismo Internacional
Copyright © 2012-2021 Ciclismo Internacional. All Rights Reserved