Tour des Alpes Maritimes et du Var 2021 – Stage 3 Preview
By David Hunter
Blausasc > Blausasc 131km
This stage is bonkers.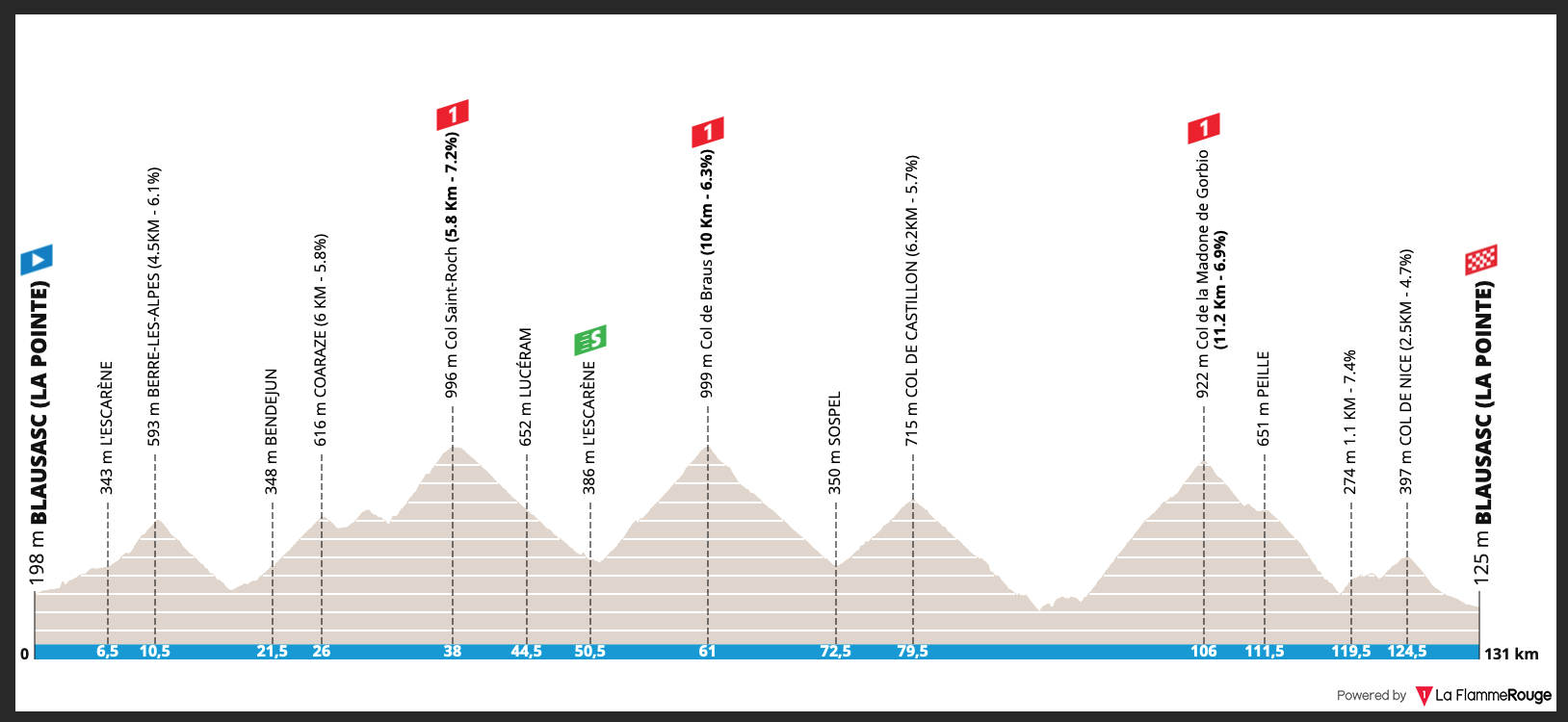 The riders do a nice loop around the climbs of Monaco, roads that many riders know well as they live down this way.
We have three cat 1 climbs along the way, but that doesn't tell the full story. The stage is only 131km in length, and it has zero kilometres of flat. The climbs are tough, but the descents are even worse, this is a day where the peloton will be blown to pieces.
Climbs & Descents
The race starts with 4km at 6%, and it's not even categorised. After a short descent we bounce straight into the next climb.
7.1km at 5.3%, and again it's not classified. Once this has been dealt with, the first cat 1 climb of the day is just around the corner.
Col de Saint-Roch is 5.6km at 7.5%. With a narrow road and a relatively rough road surface, this is a tough climb.
The descent off the climb is fast, narrow and full of twists and turns. It bounces straight into the next climb.
Col de Braus is 9.7km at 6.7%. This cat 1 climb is a relatively steady effort, but it does have a tricky section full of hairpin bends.
Another tricky descent follows the climb. With relatively steep gradients, the riders will be flying down these roads. Click on Street View and take a look for yourself. Once into the village of Saint-Jean, the road has 10 hairpins in just a couple of kilometres.
Again, the descent bounces straight into the next climb. This time it's Col de Castillon, which is 7km at 5%, but unclassified. This one is nice and steady, and its descent is quite easy. This leads us into the big point of the day, the Col de la Madone, but there is a little surprise before you get there.
This is the road that leads into the Madone, it features 400m at 10.8%, with a maximum of 21.8%. It might not look much, but this is a horrible effort before a big climb and it can be used for attacks, do not underestimate.
11.1km at 7%, this is the longest and hardest climb of the day. As the stage has already been very tough, the peloton shouldn't be very big at this point.
Welcome to the worst descent of the day. The road is very narrow and once down into Peille it's super technical. Despite it being a sunny day, I'm told the roads down here always seem wet due to being surrounded by trees.
Yet again the descent bumps straight into a climb. This little kicker is 1.2km at 7.8%, and it crests with just 11km to go.
At last, the final climb of the day! This little bump is 2.5km at 4.9% and tops out with just 6.5km remaining, and that's all downhill.
Tactics
Make no mistake, this is about as hard a stage as you can get in February. The climbs are very tough, the descents are crazy, this stage is going to be epic. There is a possibility the race explodes fairly early; I really don't see teams waiting for the Madone before launching the big attacks.
A team like Ineos must be the concern for the others. Everyone of their riders can climb, I think they'll try and get some riders up the road early in the stage, to be used as satellite riders once the main moves come. Despite not having a great race so far, they have to be the team to animate this stage. FDJ also have multiple options, there is no point simply waiting for the final climb, teams must use their numbers early.
Being a good climber is obviously needed to win this stage, but you also have to be a good descender. The other teams will look at Woods and know he can be exposed when the road goes down, he looks vulnerable to me. I expect attacks on the hills, and possibly even more on the downhills, this is going to be fun. Woods was brilliant today, but moving into the race lead makes life much harder for him and his team. They do have some strong rouleurs, but this is a climber's stage and one where they'll be put under severe pressure from Trek-Segafredo and Ineos. There will be fireworks from the start, it's a shame the whole stage isn't live.
Local Knowledge
Mollema, Ciccone, Fuglsang and Champoussin are the local boys, this gives them a massive advantage over the rest. Yes, you can come and do a recon, but it really isn't the same as training on these roads day after day. Speaking of recons, Sivakov and Geoghegan Hart arrived in Monaco a number of days before the race started, and rode many of these roads. You don't often see riders doing that for a 2.1 race. Thomas also spends a lot of time in Monaco, but not as much as the riders I mentioned at the start of this segment.
Weather
Sunny and the wind won't get over 20km/h. Most of the route is well sheltered from the elements, so the wind shouldn't have an impact.
Contenders
Ineos – they sit with Sivakov at 13 seconds, but also have Narváez at 25 and Tao a further second back. With options like this, expect them to ride a very aggressive race. They are clearly the strongest team in the race, they have the men to blow the race apart and then keep on going. Despite being early in the race, Saint-Roch gives a real opportunity to force a strong breakaway group and pressure Woods. As I've already mentioned, there is no way you come and recon a 2.1 race without huge motivation to win the race. Tao and Sivakov are their best options, and they'll try to manoeuvre the race into a position where either of them can win the stage and GC.
FDJ – another good day for the French squad, but Gaudu just lacked a little to challenge for the win. They are sitting with three riders in the top 7, which puts them in a strong position, but they look better on paper than in real life. Molard is a solid rider, but not at the level of his main rivals here. Madouas is a big talent, but the relentless nature of the climbs will be too much for him. Gaudu would be their man card to play, but he's not at 100% and will struggle to follow the big moves. Pinot is also still in contention, despite being here to work for others, but he's unlikely to win this stage. I hope this forces into FDJ into being aggressive and not waiting for the big moves to come and find their leaders dropped. If they get together with Ineos, it could spell disaster for those left behind.
Trek Segafredo – Mollema looks incredibly strong. Both he and Ciccone are locals, they know every inch of the roads, which is a massive advantage, especially on the descents. With the Tour de Provence in the legs, both riders seem to have a little edge over their rivals, but that doesn't necessarily translate into results. They need to forget about Michael Woods and treat this like a one-day race, simply as that. They have two strong options to play, but they can't allow Ineos to dictate the race, that would be suicide.
ISUN – it's a bad day to defending the jersey. The team were brilliant today, they got Woods into a wonderful position for the climb, best not to mention Dan Martin! The Canadian is one of the best in the world on steep slopes, once he got to the front the result was never in doubt. However, this is a totally different type of day. The climbing will test Woods to the max, the descending could push him over the edge. His issues with going downhill have long been discussed, everyone knows he has a weakness in this area, which means teams will try to exploit it. Having Dan Martin still high on GC is good news, if the attacks fly early, they should try and get him away, allowing the team to sit up and not work in the bunch. As good as today was for the team, I have my doubts about how they'll perform in this stage.
AG2R – Ben O'Connor was great today; he now sits 5th on GC. They also have the local boy, Champoussin sitting 32 seconds behind Woods, so the team do have options. You would expect both riders to be able to cope with the climbing in this stage, I sense an opportunity for O'Connor to do something special.
Jakob Fuglsang – the best descender in this pack, but what happened to him today? The Dane was right at the head of the race with under 1km to go, but he couldn't follow the moves, which is unusual as he loves steep climbs. He did say that his winter training had been a little easier than usual, looks like he was telling the truth. For me, it doesn't matter about today's stage, he's still one of the big favourites for this one. Like the other locals, he'll know all the climbs and descents, which is a big advantage, expect to see him ride an offensive race.
Nairo Quintana – what was all this injury nonsense about then!? The Colombian continues to surprise after having double knee surgery in the winter. The intensity of this stage will surely be too much for him.
DS Cycling Mole
Due to my win today, Israel Start-Up Nation have invited me back, it's only fair.
Right boys put the champagne down, this is the big one. Woodsy, that was brilliant today, what a man. Dan, you're on bike washing duties! This stage is crazy, up and down all day long. I don't quite know how to put this, Woodsy, you're fucked. Everyone knows you descend like a granddad, why did you have to take the yellow jersey? We'll be under fire from everyone in the opening 60km, you'll all need a double breakfast. Dan, come back in now. I need you to sniff out the right move and get up the road, that will give the rest of you a nice rest. Woodsy, you try and anticipate the moves on the climbs, you need a gap for the descents. This is going to be one hell of a day boys, do me proud.
Prediction Time
Ineos to blow it apart early on, they have the men and motivation to do so. I picked him in my GC preview, and I see no reason to change my mind. I think Pavel Sivakov will win the stage and GC; despite everything I've said about the locals having an advantage! I probably should have listened to myself.
David Hunter
Follow us on Twitter and Instagram
Join us on facebook: Ciclismo Internacional
Copyright © 2012-2021 Ciclismo Internacional. All Rights Reserved