UAE Tour 2021 – Stage 1 preview
By David Hunter
Al Thafra Castle > Al Mirfa 176km
Let the sprint battle begin.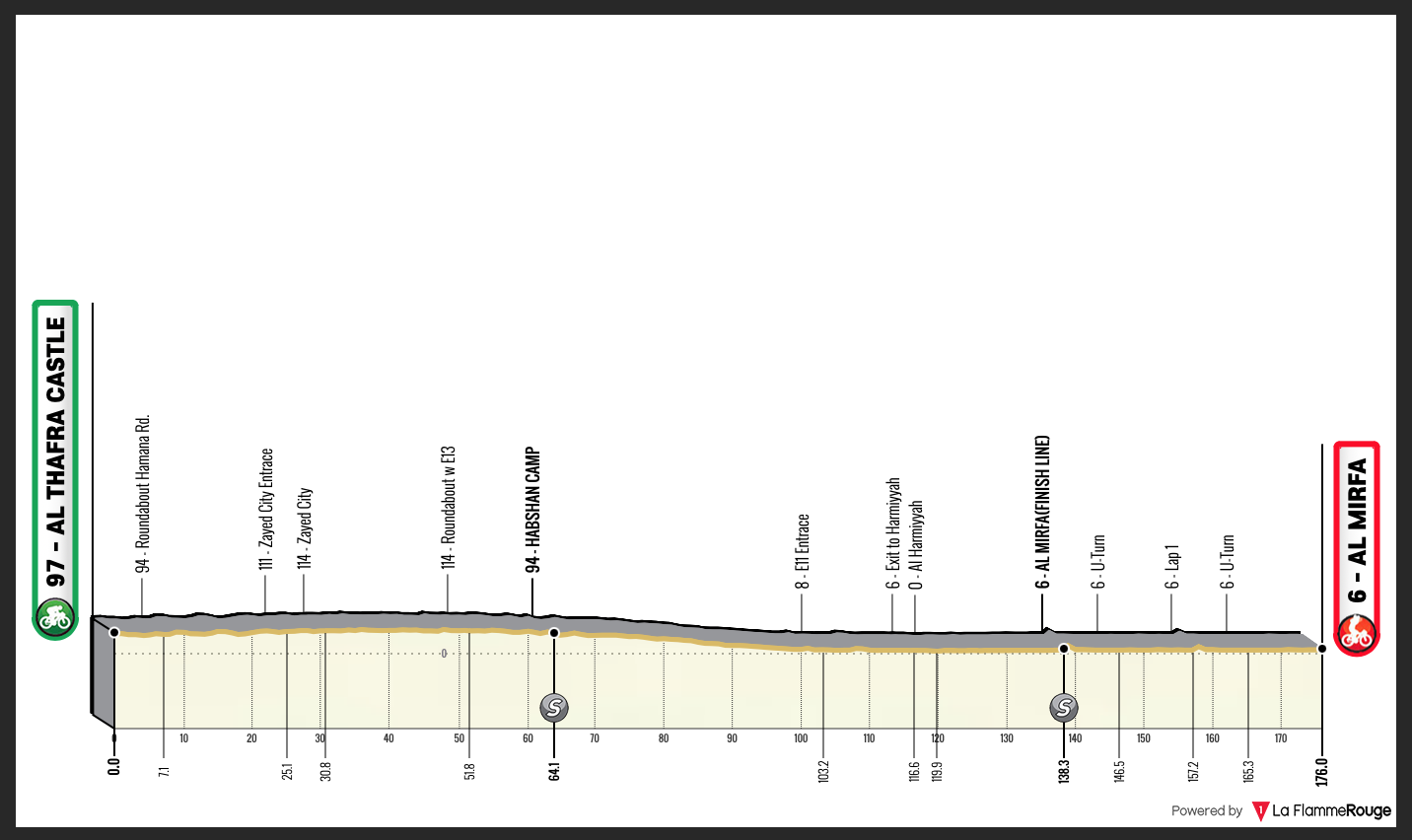 As it's the UAE Tour, we don't have to discuss the route, there really is no point.
Weather
This is the stage that looks most likely to be affected by the wind. The opening 50km is cross/tailwind and the wind will be around 23km/h. As we are in the desert the road is wide open to the elements and there is every chance we could see some splits. From km 50 until km 100 it turns into a cross/headwind, which could help those dropped chase back on, but once we hit the final 70km we have lots more crosswind opportunities.
Finale
The lap circuit, which the riders take on twice, is very UAE Tour. There are lots of roundabouts and U-turns. Basically, the bunch go up and down different sides of a dual carriageway until the finish. We have a big U-turn at a roundabout with 1.7km to go, which leads into a long straight, but the organisers have decided to throw in another turn with just 300m to go. This can be taken fast, but it's obviously going to be an important point in the race. The sprint finish will be a cross/headwind, don't go to early.
Tactics
Will teams try to split things early in the wind? I really hope so. If this does happen, we'll see sprinters having to work for their GC leader, which is just the way the cookie crumbles.
There is a wonderful opportunity to split the race early, as we have a perfect cross/tailwind, but as the riders head north that is where it could all come back together again. There are still chances once we head closer to the finish, with the road heading east or west and the wind is coming from north. Fingers crossed the riders attack the stage and we get our first proper echelons of the season.
Contenders
Caleb Ewan – arrives with the majority of his team dedicated to the sprints. He has Van der Sande, Kluge and De Buyst who are part of the regular train, but the youngster Harry Sweeny also joins the crew. This looks like a very strong train to support Caleb in all the sprint stages. Word on the street is that Caleb is going well, and it comes as no surprise to read that he'll start these stages as one of the men to beat. This was his first winter in Europe, maybe he won't start the season as strong as usual?
Sam Bennett – what a 2020 it was for the Irishman. Not only did he win his first Tour stages, but he also took home the green jersey. DQS have a split team at this race, it's likely that only Archbold and Mørkøv will be supporting Bennett in the final 3km. This makes life much harder, but these guys have so much experience, they'll know how to save energy and just hang around the front until required to go. Having such a short train means he'll need some luck in the sprints.
Pascal Ackermann – still without Selig, he's so vital for the German that I don't see him winning until he's back.
Giacomo Nizzolo – already with a win to his name, the Italian will approach the race with confidence. With six riders at his disposal, Nizzolo will have the longest train in the race. A couple of these riders will be used early in the stage, which will leave Hansen, Walscheid and Pelucchi. I don't to be rude, but these riders aren't the most reliable, I have my doubts about their ability to put Nizzolo into a good position for the sprint. It was okay in Almeria as the bunch was small, in these big sprints positioning is crucial.
Fernando Gaviria – speaking of positioning, what is going on with Nando? UAE want stage wins, but their team is full of climbers to support Pogačar. Only Bjerg and Richeze will be able to help him, and as Richeze is nearly 38, I just can't see Gaviria competing for wins at this race. UAE should have bolstered their sprint train in the winter, the failure to do so means Gaviria won't win many races this season.
Cees Bol – he'll be more than happy if the wind blows. He might not have his usual sprint train, but riders like Arndt, Kragh Andersen and Dainese are good enough to get him into a decent position. Bol was very close to winning a stage in the Tour de France, I think a big win will come soon in 2021. Team DSM have decided to move him away from the classics and fully focus on sprints, I like this decision, it shows a lot of confidence in his ability.
Mathieu van der Poel – if the wind blows, watch out for the main man. He isn't here for a tan.
Others – the likes of Philipsen, Dekker, Bauhaus, Moschetti, Groves and Mezgec will also be in the mix, but I don't see them as main contenders.
Prediction
I really hope we see teams split the race in the crosswinds, that would brighten up an otherwise boring stage. Whatever happens, I'll take an early win for Caleb Ewan, I like the look of his sprint train.
David Hunter
Follow us on Twitter and Instagram
Join us on facebook: Ciclismo Internacional
Copyright © 2012-2021 Ciclismo Internacional. All Rights Reserved