Tour of Poland 2015 – Stage 2 Preview
By David Hunter
Czestochowa – Dabrowa Gornicza 146km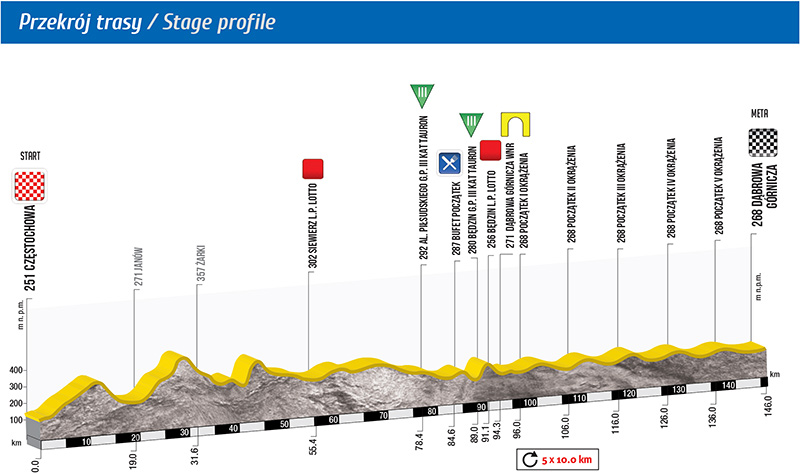 Another short stage and another lap circuit. Once into the finishing town, the riders have 5 laps of a 10km circuit. There is a small climb, but nothing to worry about. Similarly, there are a few climbs at the start of the race, but again, they are not hard enough for anyone to be concerned about. This stage is all about the finish.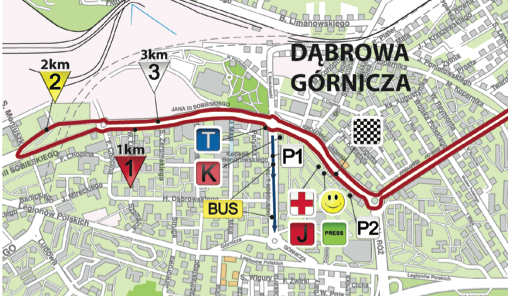 The U-turn, inside 2km, is the obvious place to start. Teams looking to dominate the sprint, will try to take control at 3km to go. They will try to be leading the race, for the roundabout, and then the turn. The finish is nice and easy, not like stage 1! There is plenty of time to organise the sprint, this stage is certain to end in a big sprint.
Time to look at sprint trains!!!!!
Giant – De Backer, Mezgec, Arndt, Kittel.
Orica – Howson, Hayman, Docker, Ewan.
Lampre – Mori, Modolo, Ferrari, Bonifazio.
Trek – Alafaci, Coledan, Nizzolo.
Lotto – Vallee, De Buyst, Boeckmans.
Jumbo – Van Winden, Van Asbroeck.
Astana – Bozic, Guardini.
IAM – Kluge, Reynes, Pelucchi.
Today was very revealing. Firsty, Marcel Kittel is back! The big man, looked like his old self and now he will possess confidence. Giant were also great. They let the other teams fight for control, before moving forward inside the final 3km. This was perfect by them, although there was a slight mistake near the end, when Arndt lost the wheel of Mezgec.
Orica also passed the test. It seemed that they were at the front too soon, but this was due to the technical finish. They knew that they had to keep Ewan at the very front of the race, or risk being swamped. When it looked like they had ran out of men, Mitch Docker, appeared from nowhere. He did a solid job, before Ewan dive-bombed Kittel, but was just beaten.
Lampre threw a surprise by riding for Bonifazio. I'm not sure if this was the plan, as Modolo seemed to give up, when he lost position. Bonifazio is a fast rider, but Modolo does not pass up opportunities to sprint. I think we'll see Sacha back sprinting in stage 2.
It was a day for lead-out men to sprint. Lampre did it, so did Jumbo and IAM. An easier sprint, should see the main men back sprinting. The lead-out men have had their chance!
Giant's win means a harder day for them. Kittel is so much quicker than the rest, the other teams will not work to control the break. The stage is fairly short, so it shouldn't be a problem for Giant to catch the break. They have a lot of willing workers, allowing them to leave Mezgec and Arndt to help out in the closing kilometres.
Movistar were very keen to control today's stage. They want to keep Izagirre, out of danger, they are not interested in the sprints. Expect to see a similar pattern for the rest of the week, especially with Dowsett willing to work very hard. Staying near the front allowed Izagirre to gain 8 seconds on most of his GC rivals, except Kwiatkowski.
Prediction Time
With Kittel back on form, this race is going to be dominated by him. Giant have the best train and he is the fastest sprinter. Unless he suffers misfortune, he wins the stage. Orica have the second best train, giving Ewan a good chance of making the podium. However, riders like Modolo and Nizzolo, are faster sprinters, so won't find it easy. I expect a much better showing from the two Italians.
David Hunter
Follow us on @CiclismoInter
Join us on facebook: Ciclismo Internacional
Copyright © 2015 Ciclismo Internacional. All Rights Reserved