UAE Tour 2021 – Stage 4 preview
By David Hunter
Marjan Island > Marjan Island 204.1km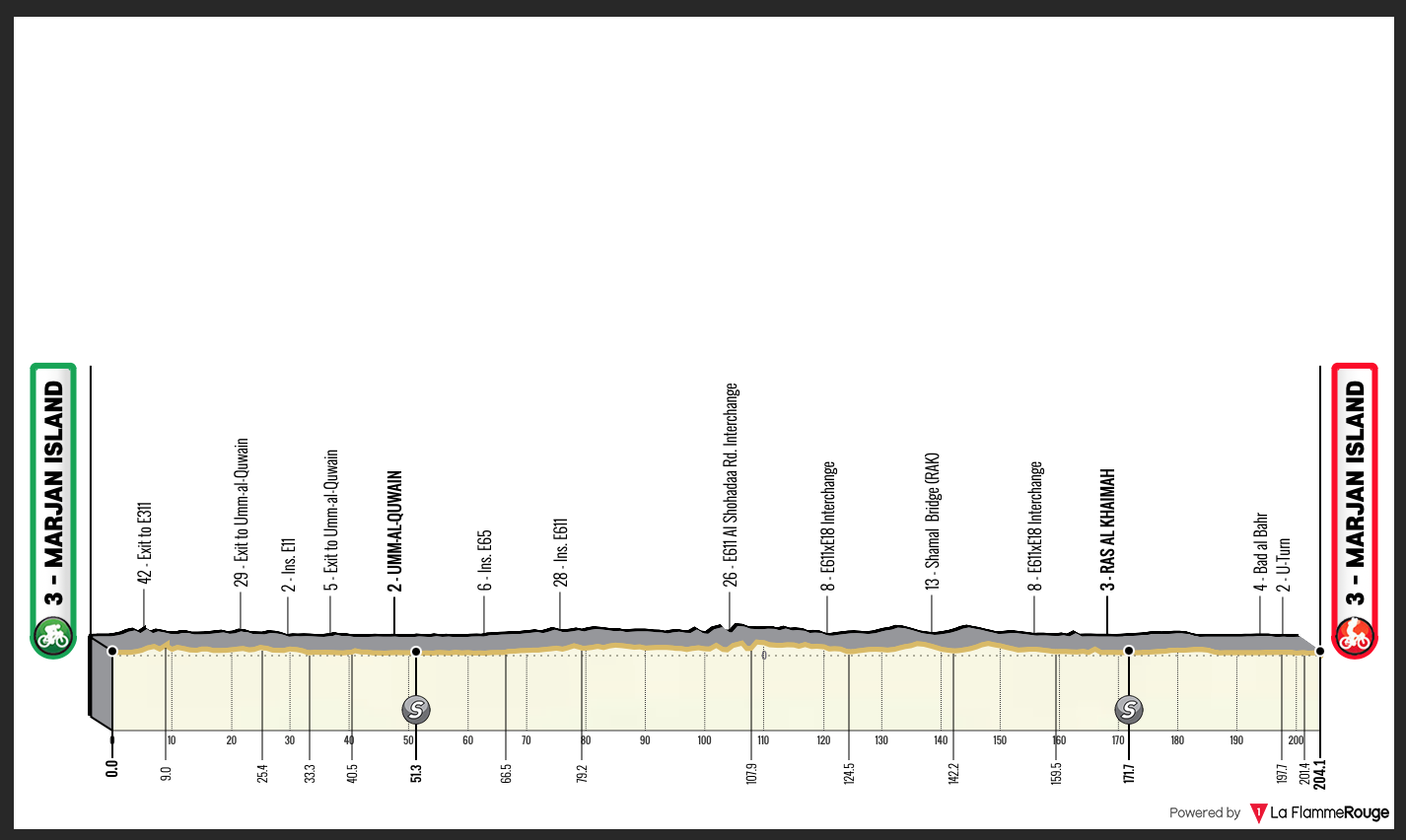 A day for the sprinters?
This is the only thing that can stop a sprint from happening. The riders go along a wide highway, that cuts through the desert, and the wind is a pure crosswind. The current forecast says it will be 20km/h, which wasn't enough to split it today, so we'll have to see if it does in this stage. If the wind doesn't blow, this will be our first big sprint.
Finale
The big U-turn comes with just under 3km to go, but it's not that important. The finishing roads are very wide, there is plenty room for all the sprint trains to form and try to get to the front. This means we should have a chaotic sprint finish.
Contenders
Caleb Ewan – he has a very good sprint train at his disposal, probably the best in the race. He'll have his usual lead out of De Buyst, Kluge and Van Der Sande, but the squad are also putting their youngster, Harry Sweeny, into the mix. It will be interesting to see where Sweeny fits in, he mentioned in a pre-race interview it would be position 2 or 3, but I have my doubts about that. This is the first of many battles between Ewan and Bennett in 2021, will the Aussie strike the first blow?
Sam Bennett – he'll only have Archbold and Mørkøv to help in the closing stages, which isn't great considering the roads are very wide. We could see the Irishman decide to try and follow the wheel of Ewan; it wouldn't be a bad strategy. Having such a short train in a stage like this makes life difficult for Bennett, he'll need to carry some good luck to get into the best possible position to launch his sprint.
Cees Bol – arrives without his usual sprint train, but he still has strong riders ahead of him. As most of you know, I'm a massive fan of the Dutch sprinter. This season I expect him to show that he's one of the fastest sprinters in the world, he might as well start here. Not having his usual lead out is a disadvantage, but he can still win this stage.
Giacomo Nizzolo – he should be full of confidence after winning in Almeria. He has the longest sprint train at the race, but I think it lacks quality, especially the men entrusted to guide Nizzolo in the closing 3km. Winning will be difficult.
Pascal Ackermann – no Selig, no win.
Fernando Gaviria – the fact that he attacked with 1.7km to go, in stage 1, instead of waiting for the sprint tells me everything I need to know about his current condition. Nando won't be winning this stage.
DS Cycling Mole
Right lads time for a big sprint. There is a crosswind section, but I doubt it'll split. Caleb, chill at the back and wait for the final 10km. The rest of you, the finishing roads are very wide, we need to get in formation nice and early and hold position at the front. I want you in this order: Sweens, Toshy, Rog, Busty. Once we deal with the U-turn, it's time to smash to the front and do what we do. Caleb, this is a big chance to put down a marker for the rest of the season. Remember, you are the fastest sprinter in the world. Now get out there and win!
Prediction Time
The wind doesn't look strong enough to split the race, I think we'll get a big sprint. Looking at the trains, I think Caleb Ewan will get his first win of 2021.
David Hunter
Follow us on Twitter and Instagram
Join us on facebook: Ciclismo Internacional
Copyright © 2012-2021 Ciclismo Internacional. All Rights Reserved