UAE Tour 2021 – Stage 5 preview
By David Hunter
Fujairah > Jebel Jais 168.8km
The worst HC climb in cycling.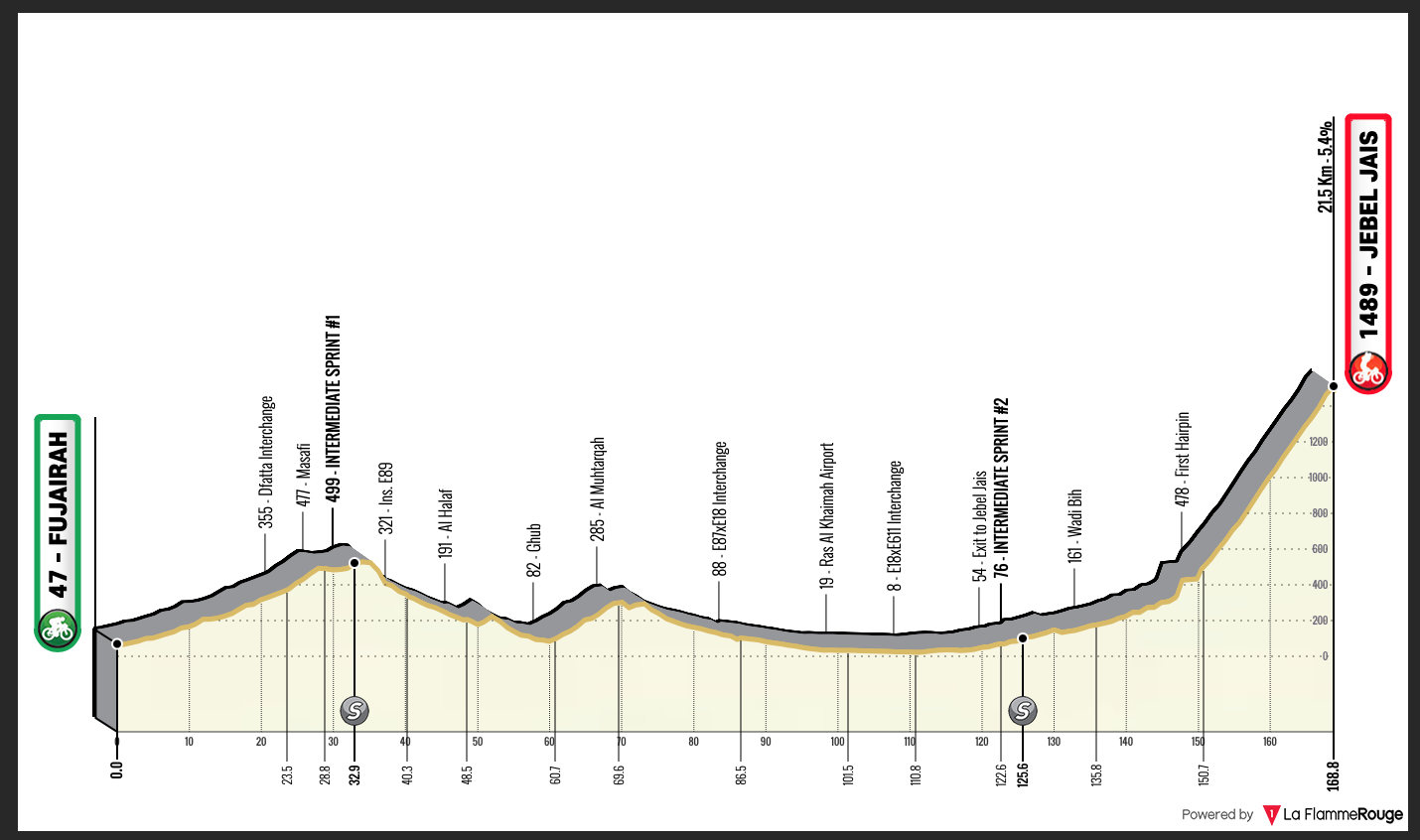 This is the final mountain stage, and the race returns to Jebel Jais, a climb that was introduced to the race in 2019. Back then Laurens De Plus did a monster turn on the front of the bunch and set up a sprint finish, which was won by his teammate Primož Roglič. Will we see another "sprint" finish?
20.7km at 5.5%. Yes, it's a long climb, but the gradients are nice for the top climbers. The mountain has a lovely consistent gradient and those sitting in the pack will gain a significant advantage due to drafting. This is not a difficult climb.
Weather
Not as hot as it's been in the last few days, and the wind is lighter too. What wind there is comes from the north-west, which means we have a headwind for the majority of the climb, just like in 2019. This is good news for the climbers who want a sprint finish.
Breakaway Hopes
With the whole stage going into a headwind, I doubt very much the break stand any chance of winning.
Tactics
UAE are in control of the race, and they would love a second stage win for Tadej Pogačar. They have the climbers to hold the race together, but it depends on the attitude of the other teams. The climbers who don't want a sprint need to attack off the front, in reality no one is now a threat on GC, so they could get freedom. Pogačar, Almeida and Higuita are the ones with the best sprint, they'll be happy for their teams to hold it all together, but this isn't great news for Ineos. Yates will be marked, and the climb isn't hard enough for him, which means one of their domestiques could be allowed to attack and see if they can steal the win.
DS Cycling Mole
Time for EF Education – Nippo.
Right boys we're in a cracking position. We have two goals in this stage: move Neilson up into 4th on GC and win the stage with Sergio. There's only four of you to support our leaders, so we'll have to play this clever. Neilson don't worry about attacking, those Ineos boys will want a high pace, we'll just hope that puts Chris Harper into difficulty, you don't need to attack.
Sergio, wee man, my little darling, you just need to hide in the bunch, which isn't difficult considering the height of you. Once in the final kilometre, get yourself near the front, but be patient with the sprint as it's mainly a headwind. You know that once you launch, no one will get close to you.
Contenders
Tadej Pogačar – what amazing form he currently has. He sits with a commanding lead on GC, he only needs to keep an eye on Adam Yates. UAE have a strong, enough team to hold the race together on the climb, but the responsibility could well be taken off them. They would like another stage win for their sponsors, but it's not a necessity. If we get a sprint finish, Pogačar is very quick, and he'll back himself to take another win.
João Almeida – another climber with a very fast finish. This climb is much easier compared to Jebel Hafeet; it should suit Almeida much more. He doesn't have much of a chance of moving up the standings, he should really just focus on a potential sprint.
Sergio Higuita – in my opinion, he's the climber with the fastest sprint. The problem is that EF don't have the team to control the climb, they'll need to hope that other teams do this. If it does end with a small sprint, I would be amazed if Higuita doesn't win, he is very fast. It always amazes me to see such a small guy turn such a massive gear.
Emanuel Buchmann – he won't win the sprint, which could encourage him to attack further down the climb. Thanks to the crosswinds, he's miles down on GC, which will buy him freedom from the GC teams. Jebel Hafeet confirmed that his current condition is good, it's been a long time since he last pinned on a number, his performance confirmed he had a good winter. With that climb in his legs, I think he'll be even better in this stage, but can he escape the bunch into a headwind?
Neilson Powless – after a very strong Tour de France, it was good to see him starting this season well. The American is a very good climber, but he didn't reach his potential at Jumbo-Visma. I doubt he can win this stage, but the signs are good for the season ahead.
Harm Vanhoucke – another of the youngsters who impressed on Tuesday. He's in the same position as Buchmann, he must attack and not wait for the sprint.
Wout Poels – the cooler temperatures are much more to his liking. Poels suffered in the heat on Tuesday, but that doesn't mean he won't be fighting for the win in this stage. He was very good on Chalet Reynard; I think he has the ability to win this stage.
Adam Yates – with Pogačar watching him like a hawk, it's going to be very difficult for him to win. Yates looked in amazing form on Tuesday, but he couldn't shift Pogačar. The gradients on this climb are shallower, this isn't to his liking, but he's got to at least try an attack or two, even if he'll probably know they won't succeed.
Dani Martínez – if Yates can't win, why not Martínez? His turn on Tuesday was impressive, he blew the bunch apart and set up the big Yates attack. Ineos will know that Yates has little chance of taking this stage, hopefully that means they allow Martínez to attack in the closing kilometres and take his chances with the headwind. If a small group get off the front, there is no guarantee it comes back together.
Prediction Time
The headwind is bad news for the attackers, this stage is likely to end in a small sprint. I'll take Sergio Higuita for the win, he's bloody fast.
David Hunter
Follow us on Twitter and Instagram
Join us on facebook: Ciclismo Internacional
Copyright © 2012-2021 Ciclismo Internacional. All Rights Reserved