UAE Tour 2021 – Stage 6 preview
By David Hunter
Dubai > Palm Jumeirah 165km
Just another standard sprint stage, or is it?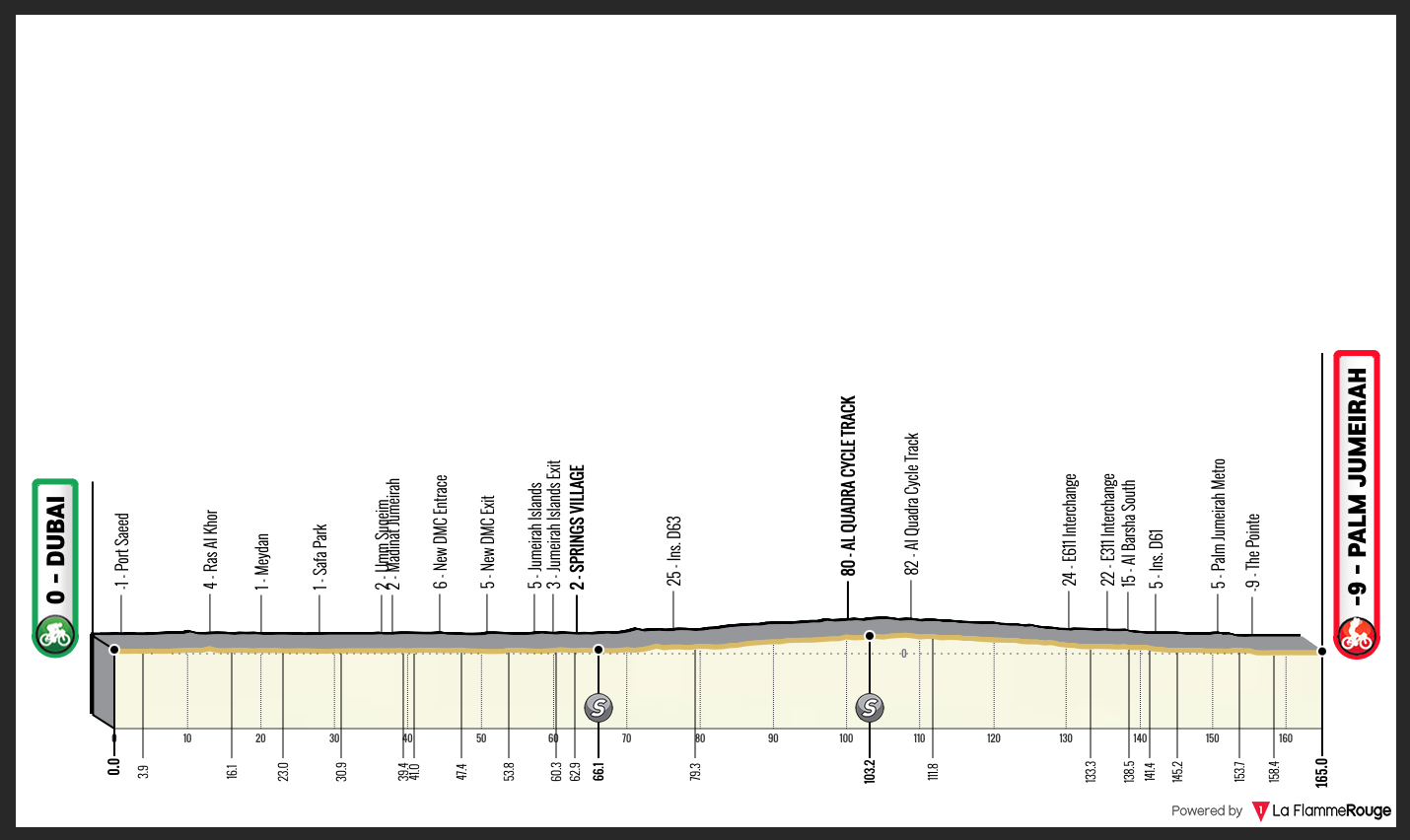 Weather
Warning, we have a 30km/h wind coming from the sea. That is plenty enough to split the bunch.
Echelons
The bunch will be out in the desert from km 80 until km 130, that's a long time in potential crosswind country. The road straights up around km 93, at this point it's a full-on crosswind from the right, and it continues like this for 10km. The riders then have to loop round and head back up the same highway, the wind is still crosswind, but with a slight headwind. I expect the race to split.
Tactics
There will be a lot nerves in the bunch, everybody knows what's going to happen. Once we head out into the desert there will be splits as the wind is 30km/h. We'll have to see who makes the front group, but I would be amazed if Pogačar and Almeida aren't there. This could be a problem though, with the GC already decided will these teams continue to push on?
If we have some sprinters in the front group, and they have teammates, they will definitely push on. The composition of the group will be interesting, there were a few surprise names in the move on Sunday, as well as some we would normally expect. We would usually see more sprinters than climbers in the front echelon, but that didn't happen on Sunday. Will normal service be resumed?
Finale
We've seen this finish many times before. The riders go into a long tunnel, emerging with just under 6km to go. Then it's about trying to find your sprint train, before the U-turn with 3km to go.
The road is nice and wide until the flamme rouge, when the bunch gone down a slip lane. Once there, the go onto city centre cobbles for the finish. It's a tricky finish to get right, but it will be much easier if it isn't a full bunch. Although the road narrowing might look dangerous, it actually makes the sprint safer than Wednesday. Previous winners here include Kittel, Cavendish, Groenewegen and Viviani, it really is one for pure speed.
DS Cycling Mole
I'm back as in the Lotto-Soudal camp tonight. I've been asked to provide a little help in working out the riders I give nicknames to!
Boys this race hasn't been too good for us, apart from young Wookiee (Vanhoucke). We came here for a win and we only have two stages left to do it. You've just watched my presentation, you know where this race is going to split, be attentive. Calebo (Ewan) if I catch you chatting with rivals at the back of the bunch again I'm going to put laxative in your water, and the car won't be for stopping. You'll be left all alone in a ditch in the desert, you have been warned. The rest of you, get him in position and let his legs do the talking. Now, I'm jumping on a plane to the real racing in Belgium.
Contenders
Sam Bennett – absent on Sunday, but I would expect him to make this move as he's normally quite good in the wind. His stage win on Wednesday was impressive, he won by a considerable margin. His chances of winning will depend on him making the front group, and then not having to do too much work for Almeida. It's certainly a little complicated, it would be easier for him if they didn't have a GC leader, but that's what you get when you ride for a big team.
Elia Viviani – despite his recent heart surgery, the Italian has looked very good in this race. He made the front split on Sunday, but when he launched his sprint he didn't have enough juice left. On Wednesday he was again 4th, which certainly wasn't a disaster considering the amount of training he's missed over the winter. Personally, I'd love to see him taking the stage win after recent health problems.
Giacomo Nizzolo – the Italian is normally very good in the wind, but he missed Sunday's split. He's exactly the type of rider who should look forward to this stage, as it could remove some of the fastest men from the front group. One issue is the strength of his team, can they get him into the right position when the shit hits the fan?
Caleb Ewan – when the race split on Sunday, he was at the back of the bunch chatting to Ackermann, that didn't look very good. He finished 3rd on Wednesday, which wasn't a bad start to the season, but he needs to do better in this stage. The Aussie can survive in the wind, but he can also struggle, he certainly lacks consistency in these conditions. If the wind blows, we'll have to see if he's more switched on this time round.
David Dekker – two second places, not bad for his first world tour race. I would love to see him getting his first win for Jumbo-Visma, especially as he's one of my riders to watch in 2021. He's sprinting fast, but also looking strong, if the wind blows I'm sure he'll enjoy the conditions and look to get that first win.
Cees Bol – another rider who will enjoy the echelons. The big sprinter lives near the coast, and regularly trains in windy conditions. I was surprised he didn't make Sunday's split, but a lot of that was to do with the GC teams pushing on after the intermediate sprint. Wednesday's sprint was disappointing, but don't let that fool you, he's very fast.
Prediction Time
I think it will split, but we'll have to see if the front group continue to push on after that. For the sake of this preview I'll say we'll get a reduced sprint and Giacomo Nizzolo will win, he's usually very good in the wind.
David Hunter
Follow us on Twitter and Instagram
Join us on facebook: Ciclismo Internacional
Copyright © 2012-2021 Ciclismo Internacional. All Rights Reserved