Volta a Catalunya 2021 -Stage 4 preview
By David Hunter
Ripoll > Port Ainé 168.5km
The big day.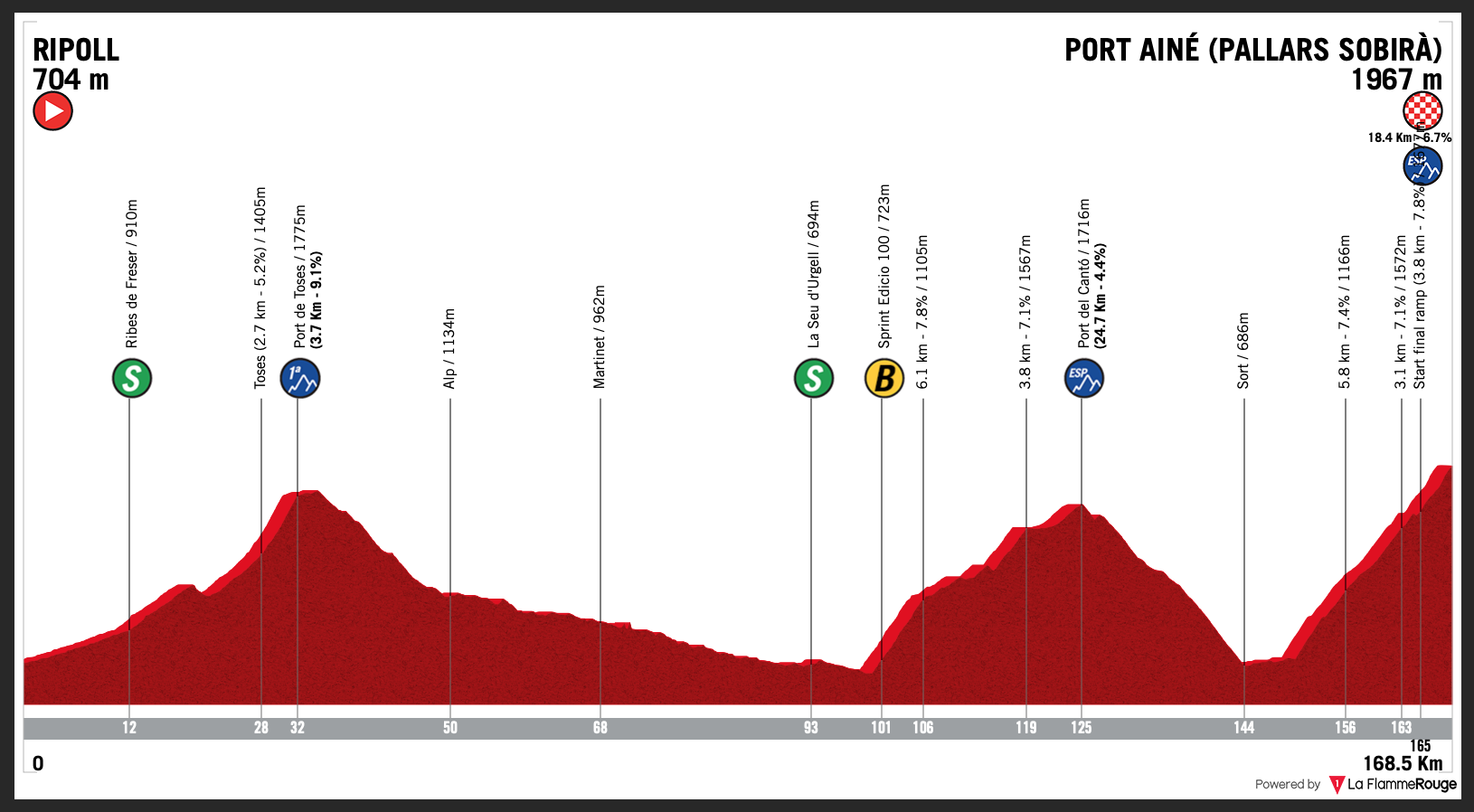 This is the hardest stage we've seen this year; it is a little beauty. The riders have to deal with 3900m of climbing, that's an awful lot in 168.5km.
Weather
Cloudy sun and not much wind.
Key Points
The stage begins with 10km of gentle climbing before they hit this. The official climb is called Port de Toses and is officially classified as 6.2km at 7%, but you can see the overall climb is 20.1km at 4.1%. This is wonderful news for climbers who want to get in the morning break. The descent off it is nice and easy. A long section of flat follows before the next climb.
Port d'El Cantó is classified as 24.3km at 4.5%, it's another long one. The start of the climb is the hardest, before it settles down into something fairly easy. Again, the descent shouldn't cause many problems.
Port Ainé is 18.6km at 6.3% and it has some tough sections near the top. The average of 6.3% doesn't sound much, but it will seem much harder with so much climbing in the legs.
Tactics
Everyone knows that Ineos are too strong to be put under pressure. They had three riders in the top nine today and sit with 1st, 2nd and 4th on GC. I repeat, they are too strong to be put under pressure. This makes life very difficult for everyone else, I'm really not sure how they'll approach the stage. One thing I am sure of is this is a great day for the breakaway, it's the only way the vast majority of teams can take the stage win. Will Ineos chase? They won't have to, as long as a pesky GC rider doesn't slip up the road.
The start of the stage will be crucial. There are a lot of riders sitting between three and five minutes down on GC, they will try and jump in the break. Ineos have a strong team, but only having seven men doesn't make it easy to control the start. They have Rowe, Castroviejo and Dennis to try and manage the first climb, they might even call on Carapaz if required. They'll be keen on letting a large group establish, but will be carefully checking numbers before stamping any tickets.
DS Cycling Mole
By popular demand I'm taking over Movistar, probably for the whole season, not just this stage.
Hombres, gather round. Bala, where the fuck did that come from? That'll shut up the English for a while. This is a stage for the breakaway. You all have one job in this stage, get Marky Marc in the break. The big man took it easy today, he rode up the climb with a cigar. We go crazy on the first climb, drive a big break away and then the stage belongs to us. Back in the GC group, we'll see what Bala can do. Mas? Mas? Mas? Everyone, is Mas even at this race? Come on Marky Marc, do it for Spain!
Contenders
Marc Soler – went out the back door very early today, but was he cooked? Judging by his facial expression I'm not sure that the Spaniard was actually in trouble. Did he ride himself out of GC contention to get freedom for the rest of the stages? With Movistar it wouldn't surprise me.
Thomas De Gendt – standard breakaway pick, but check out his record in this race. The master has won stages here in 2013, 2016 (Port Ainé), 2018 and 2019. That is bordering on the ridiculous.
Michael Storer – he's one I've got my eye on.
Luis León Sanchez – the Spanish champion was climbing very well in Paris-Nice; I think he's due a stage. He almost got one on Monday, I expect to see him up there in this stage.
Kenny Elissonde – can King Kenny land a big one? It would be a very popular win.
Dan Martin – sits 5 minutes down, that's just enough to be allowed up the road. He won here back in 2013, riders like climbs they have good memories of.
Attila Valter – the young Hungarian has lots of fans, he seems a popular boy. He's a youngster with a big future ahead.
Marc Hirschi – it's his first race this year, and he might not be 100%, but he does love a breakaway.
James Knox – got his head kicked in today, but the wee man is made of strong stuff.
Ineos – if the break isn't successful, Ineos should win the stage. With Yates, Porte and Thomas all climbing well it will be almost impossible to beat them.
Prediction Time
I'll take a win for Marc Soler; I don't think he looked in trouble today. In the main group, Ineos will end the day with three riders on the podium.
David Hunter
Follow us on Twitter and Instagram
Join us on facebook: Ciclismo Internacional
Copyright © 2012-2021 Ciclismo Internacional. All Rights Reserved