Vuelta a Burgos 2021 – Stage 4 preview
By David Hunter
Roa > Aranda de Duero 148km
Another chance for the sprinters.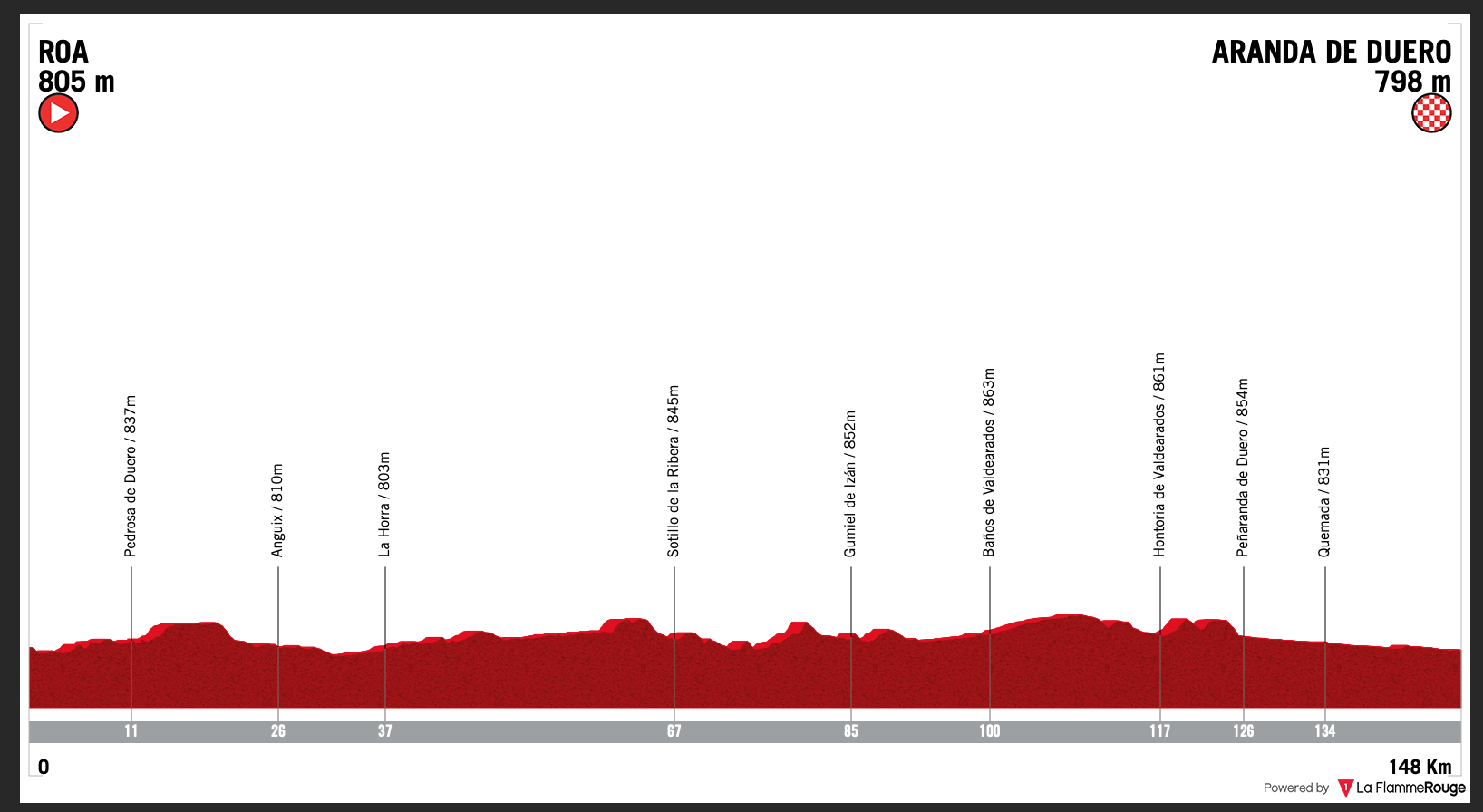 This stage only has 1000m of climbing, it's a nailed-on sprint unless we see some echelons.
Weather
Another hot day for the bunch. The wind is coming from the west and is to strengthen throughout the day, eventually reaching 20km/h.
Echelons
The whole day is spent on exposed roads, perfect for those wanting to split the bunch. The wind isn't strong enough to split the race in the opening half of the day, but it should be in the final 50km. The problem is that most of this is a cross/headwind, not ideal for creating echelons.
This is good spot to split the bunch, with the wind coming from the right. This is with 25km to go, but the problem is the right turn which takes the bunch into a headwind for around 15km. This makes it very difficult for a group to hold off the peloton, but you might as well give it a go.
Finale
The right turn with 6.4km to go leads straight into a cross/tailwind section. There will be a big fight for the front of the peloton at this point as we could see echelons. This section lasts for around 1.5km, before turning into a headwind. It might be short, but the pace will be very high, and it could split. The rest of the run for home is easy, the final corner comes with 1.2km to go.
Contenders
Juan Molano – took an excellent win on Wednesday, he's a rider I seem to underestimate. This was his first taste of success in 2021, he'll be thirsty for more. With Trentin to help guide him in the closing kilometres he'll be confident of again challenging for the win.
Alberto Dainese – second on Wednesday, he wasn't far away from getting the win. The Italian has a lot of speed, he just needs to start the sprint from the right position. DSM signed him on a long-term contract, but I think they'll have been getting worried about his lack of results. This race is very important in terms of building confidence and reminding everyone of his capabilities.
Jordi Meeus – with Burghardt up the road it was hard for Bora to properly prepare the sprint on Wednesday. They were left in that horrible position of trying to stay at the front, but without chasing down their own man. Understandably this meant they were slightly out of position when the sprint was launched and Meeus couldn't challenge for the win. In this stage I hope they go all in for the Belgian.
Jon Aberasturi – with the crosswind section so close to the finish this will be a tough stage for him. He has the speed, but he doesn't have the team to position him.
Prediction Time
I still think he's the fastest in the race, a win for Jordi Meeus.
David Hunter
Follow us on Twitter and Instagram
Join us on facebook: Ciclismo Internacional
Copyright © 2012-2021 Ciclismo Internacional. All Rights Reserved