Ruta del Sol 2016 – Stage 2 Preview
By David Hunter
Palomares del Rio – Cordoba 186.3km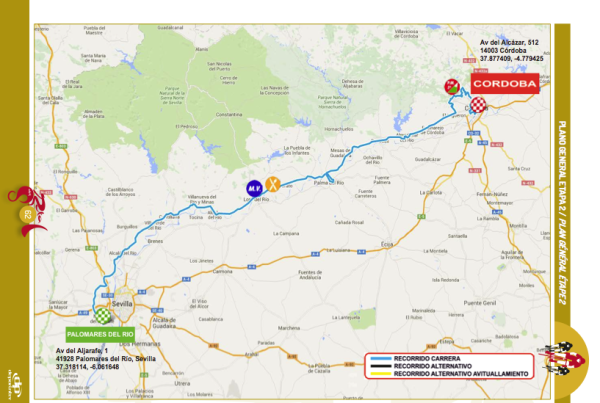 It looks like a fairly easy day, until you see the profile!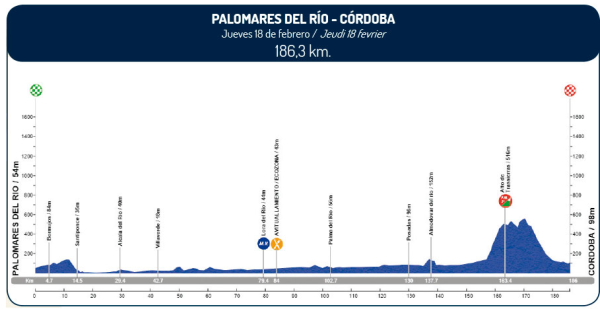 The sprinters will be wondering why on earth they had to throw a cat 3 climb near the end of the stage! If that's not enough, we have two very steep uncategorised climbs, before the descent to Cordoba. The end of this stage is nasty.
The climb, Alto de la Trassierra, is 4.9km at 6.3%. Making it a cat 3 is a little deceiving for the riders, it's harder than that. I would imagine that the climb is hit very hard and fast, making it a really difficult job for the sprinters to survive. The riders who were in Murcia, raced up a similar climb to this, 4.2km at 7.2%, with Gilbert surfing with the climbers. BMC have a reason to set a fast tempo, it is Gilbert!
Nacer Bouhanni is the big sprinter and he can climb well, but this might be too much for him. I am always wary of writing Bouhanni off, as he is an underestimated climber. I remember him surprising everyone in the 2014 Vuelta, finishing 5th into Obregon. Being in February, Bouhanni is not in his best condition yet, that could well go against him.
JJ Lobato is a local lad, who loves this race. He missed out today, just like all the big sprinters. He does have the ability to climb, but Movistar won't be hanging around for him. I get the feeling that Lobato will have to look after himself, with Valverde their main focus. If the climb is hard and the sprinters get dropped, it opens the door for the Spaniard for the Spaniard to take a stage.
Ben Swift is a big threat for this stage. The Englishman can climb very well, remember he survived with the lead group in stage 4 of the TDU, when all the other sprinters were dropped. He is not fast enough to win normal sprint stages, this is his speciality. Spain holds fond memories for him, particularly his performance in the the 2014 edition of Pais Vasco. One of the issues Swift will have is a lack of a lead-out train. He will have to come from behind Gilbert, but he should have the power to do that.
Fabio Felline will certainly hope to be in the sprint. Like Swift, he also has fond memories of Spain, winning a sprint stage in the 2015 Pais Vasco. Felline was in outstanding climbing form in Laigueglia, eventually finishing 4th. The Italian really has developed into an all round rider, able to sprint, climb and TT. Being a climbing sprinter, it's no surprise that he likes riding in Spain.
I think the climb will not be great for Kristian Sbaragli. This is his first race of the season, and the climb will be no tourist ride. I also think that Raymond Kreder will struggle to cope with the gradient. That is good news for riders that are a little slower than them, but can cope with the climbs.
Carlos Barbero is one of them. He started the season well, with 6th in GP Marseillaise, but crashed out of Besseges. He has been receiving treatment and is fit enough to challenge. If he is on form, Caja Rural will help with the tempo on the climb. Winning the stage will still be difficult, but the podium is a realistic hope for him.
A rider who I really like is Dimi Claeys of Wanty. He has just joined the team, moving up from Verandas Willems. He is a strong rider, really bloody strong! In 2015 he won the Tour de Normandie, a stage in Croatia and was 2nd in Ronde van Limburg. He just loves a hard race and this is going to be one. However, it's not guaranteed he can get over the climb. Making the move from 1.2 races to this is a big change for a rider. When a team like BMC set pace on a climb, it is tough.
Bert Van Lerberghe is another sprinter who would hope to make the finish. I talked about him in my stage 1 preview, just as well really! He did compete in Murcia but missed the front split. The crucial move actually came on the descent of the big climb, riders who were hanging about the back were caught out. The 23 year old Belgian has a good chance of surviving the climb, if he does the podium awaits…again!
With many riders expecting to be dropped, the peloton will be small as we descend to the finishing line. That means controlling the bunch will be difficult, increasing the hopes of any late attackers. The problem for these riders is the numbers of Sky and BMC. Looking at the quality riders in their squads, I would expect them to control the final 20km and ensure a reduced bunch sprint.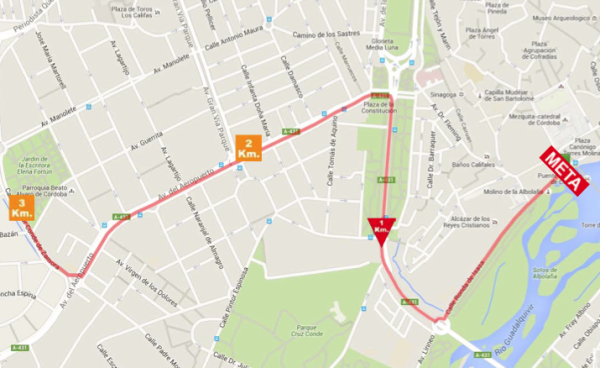 The sprint is fairly straightforward. We have a right hand corner at 1.6km and a roundabout at 700m. With a reduced bunch, moving up the peloton should be okay. All you need is two men to carry you forward and it's time to sprint!
I would like to point out that the road book was wrong today. Spanish road books are never the most reliable and I think the climb is much harder than people are thinking. This is not a good day for the sprinters, this is a day for puncheurs and GC riders.
Prediction Time
Having looked at the climb, I can't see more than 25 riders getting over it. Movistar will sense an opportunity to take the stage, but I'm not sure they'll be able to shake Gilbert. He was climbing very well in Murcia and I think he'll hang on for the win.
David Hunter
Follow us on @CiclismoInter
Join us on facebook: Ciclismo Internacional
Copyright © 2016 Ciclismo Internacional. All Rights Reserved